Avon Plunges After Quarterly Loss and 2 Other Hot Stocks to Watch
Avon Products Inc. (NYSE:AVP): Current price $17.10
Avon Products shares are down more than 22 percent Thursday in heavy volume, hovering around $17.3o after the firm posted a quarterly loss, while revenue fell by 7 percent, missing expectations. Chief Executive Sheri McCoy remarked that, "The third quarter was tough," attributing the disappointing results to economic headwinds and weakness in her company's North American business.

Alcatel-Lucent SA (NYSE:ALU): Current price $3.76
Alcatel investors seem quite pleased Thursday with the company's third-quarter numbers as it reported higher revenue and a smaller loss, aided by double-digit growth in the highly lucrative domestic market, and slashing costs as well. Investors were also happy with the progress made by Chief Executive Michel Combes, sending shares up over 12 percent while some analysts forecast that the consensus be upgraded. Combes' strategy is to streamline the group so as to center on IP networking products, which assist telecom operators in carrying mobile data traffic, and high-speed mobile and fixed broadband, while cutting the staff by 10,000 people to save 1 billion euros by 2015.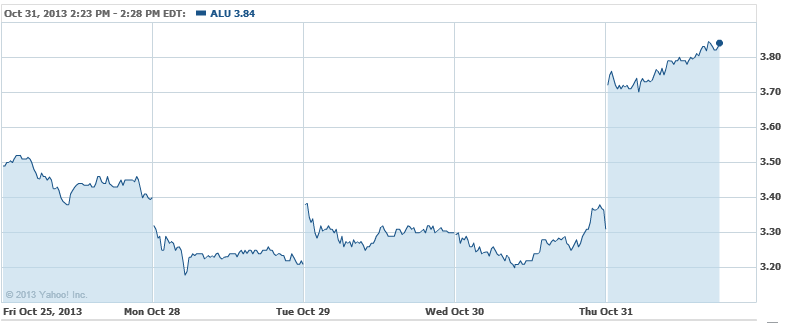 Ariad Pharmaceuticals Inc. (NASDAQ:ARIA): Current price $2.36
Shares hit a new 52-week low Thursday on word that Ariad is suspending the sales of its leukemia drug Iclusig due to fears that patients could suffer from blood clots. The company said that the FDA requested that it cease marketing the drug on Wednesday afternoon, and the firm is negotiating with the agency over changes to prescribing information and new ways to manage the risks linked with Iclusig. However, Ariad said it wants to resume marketing the drug. In December 2012,  the FDA approved Iclusig as a treatment for two rare types of leukemia. The drug is a daily pill and is Ariad's only approved product. It brought in $13.9 million in sales in the second quarter.

Don't Miss: Is Bank of America the DOJ's Next Target?