AW YEAH! The New Wall St. Cheat Sheet Newsletter is Here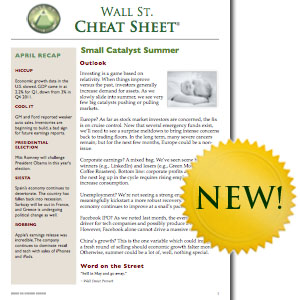 Are you too busy to keep up with the tsunami of information that will help you make money with stocks? Are you looking for successful pros to give you the exact information you need to set up great stock picks so you can go back to living your life?
Look no further. The new issue of Wall St. Cheat Sheet Premium Newsletter is fresh off the press.
This month we take a look at why Wall Street's proverb "Sell in May and Go Away" may be subject to a critical exception. And, as usual, we give you everything you need to take advantage of our Feature Stock Pick of the Month. No homework necessary!
Don't miss out on getting our stock picks before they make big moves. Get this month's Wall St. Cheat Sheet Premium Newsletter FREE now >>
All the best in investing,
Damien & Derek Hoffman
Founders, Wall St. Cheat Sheet