Awkward: McDonald's Gives Tipping Advice; Workers Strike for Wages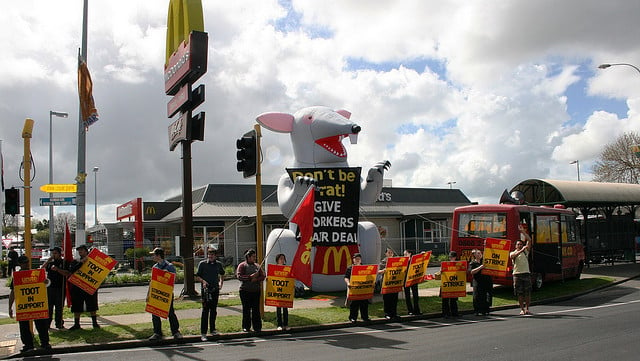 Well, there were many ways McDonald's (NYSE:MCD) could have productively responded to its employees in 100 cities walking off the job Thursday, campaigning for 15-an-hour pay, but enlightening them how to tip their own service people via an employee resource website probably wasn't one of them.
The fast food chain didn't get the chance to directly educate its employees how to properly tip their au pairs or pool boys this holiday season, but rather, NBC News explained Thursday that the company did so through a posting on its worker resource website where third-party partners routinely provide money management advice for employees. Etiquette guru Emily Post was the writer responsible for the now-deleted suggestions, but before the content was removed, she offered recommendations for McDonald's gift-givers this holiday season, explaining proper etiquette for tipping the au pair, housekeeper, and/or pool cleaner. The site also listed suggestions for dog walkers, massage therapists, and personal fitness trainers.
It's at least a little ironic that the post went live the same day that McDonald's employees walked off the job to fight for livable wages, especially considering the tips post accounted for adding up to hundreds of dollars when many workers make just above minimum wage. NBC News points out that the gifts suggested in the post far overestimate the budget of many McDonald's employees who only earn $9 an hour, but McDonald's still found it appropriate to provide suggestions for those workers who could afford them, advising, "What you give, if anything at all, should be dictated by your relationship with the serviceperson, how often you utilize the services, and most importantly, your budget."
Unfortunately, this is strike No. 2 for McDonald's when it comes to offering up controversial wage management advice. It's hard to forget how the fast food company made a similar advice blunder back in July when it updated its company's budget calculator tool, and launched a website that offers its low-wage workers the opportunity to use a budget calculator to manage their wages.
The budget tool is purposed to help low-wage employees manage their meager earnings, but the Oak Brook, Illinois-based company offended workers and consumers everywhere when a budget journal example gave an offensive underestimate of what it is like to live on a minimum-wage job. Not only did the website encourage employees to secure a second job, the sample also set aside a meager $20 a month for health insurance and $600 for rent, apparently assuming that all employees live in a temperate environment and don't have to pay a penny for heating or air conditioning. Oh, and also not anything for food or clothing.
The budget calculator website was a different one than the subject of this week's blunder, but this month's employee resource site already has had problems of its own, too, and it offended workers earlier in November when McDonald's suggested that employees get out of holiday season debt by returning unopened purchases. Responding to consumer complaints this week, McDonald's took down its most recent content, and said in a statement, "This is content provided by a third-party partner and quotes from one of the best-known etiquette gurus, Emily Post. We continue to review the resource and will ask the vendor to make changes as needed."
Don't Miss: 7 Ways to Unwrap the Gift of Food This Holiday Season.