Baidu Boosts Future Sales Outlook And Shares Bump Up
Baidu (NASDAQ:BIDU) reported earnings last tonight and while they only beat estimates for the quarter by 2 cents (47c v 45c), revenue guidance for next quarter was pushed up to the $493 to $504M range, above the $484M consensus which seems to be enough to keep investors happy.  The stock is doing little after hours.  I would have expected the bar to be higher since the stock has rallied 50%+already in 2011, but at this point anything Chinese internet is completely teflon.  With that said, revenue was up 88% year over year – very impressive.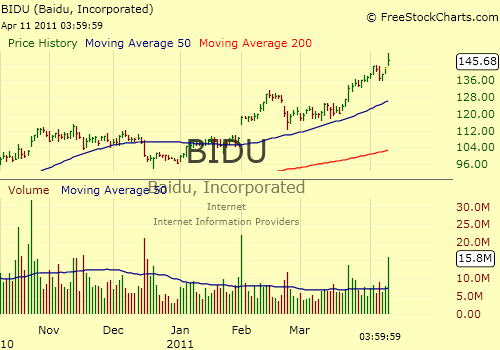 For the first quarter, Baidu (NASDAQ:BIDU) reported net income of $163.5 million, or 47 cents per American Depository Share. This compared with $70.4 million or $2.10 per share before a 10-for-1 stock split a year ago.
Total revenue for the first quarter came in at $372 million, above its own forecast of $360.6 million to $371.2 million and up roughly 88 percent from a year ago. Analysts estimates called for revenue of $367.3 million.
Online marketing revenues for the first quarter of 2011 were RMB2.435 billion ($371.8 million), representing an 88.2% increase from the corresponding period in 2010.
Baidu had approximately 274,000 active online marketing customers in the first quarter of 2011, representing a 24.0% increase from the corresponding period in 2010 and a 0.7% decrease from the previous quarter.
Revenue per online marketing customer for the first quarter was approximatelyRMB8,900 ($1,359), a 50.8% increase from the corresponding period in 2010 and flat compared to the previous quarter.
Traffic acquisition cost (NYSE:TAC) as a component of cost of revenues was RMB198.6 million ($30.3 million), representing 8.2% of total revenues, as compared to 13.2% in the corresponding period in 2010 and 8.1% in the fourth quarter of 2010.
TAC costs are widely watched and remain at a substantially lower level than a year ago, which is very good.
No position
Competitors to these companies include: SINA Corp (NASDAQ:SINA), Sohu.com(NASDAQ:SOHU), and NetEase.com (NASDAQ:NTES), Google, Inc (NASDAQ:GOOG), Yahoo! Inc. (NASDAQ:YHOO), Shanda Interactive (NASDAQ:SNDA), Rediff.com India Ltd. (NASDAQ:REDF) and Youku.com Inc. (NYSE:YOKU)
This is a guest post written by Trader Mark who runs the blog Fund My Mutual Fund.
Follow the latest from earnings season here>>
Improve Your 2011 Financial Health: Join the winning team of stock pickers with Wall St. Cheat Sheet's acclaimed premium newsletter >>