Baidu Falls on Q1 Earnings and 2 Other Hot Stocks to Watch
Baidu (NASDAQ:BIDU): Current price $85.74
Shares fell by 8.2 percent to $84.77 in early trading subsequent to Baidu reporting its earnings Thursday night, says Ben Levisohn at Barron's. The company fell short on both its revenue and its profit figures, as it has more and more trouble raising prices for its ads. However, Baidu still believes that it will meet its full-year guidance. One big red flag was the operating margin, which plunged by 39.9 percent in the quarter, from 48.3 percent during the fourth quarter of 2012 and 52.9 percent year-over-year.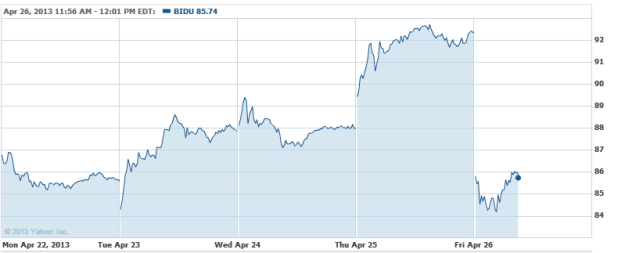 CEMEX (NYSE:CX): Current price $11.43
CEMEX announced on Friday that its consolidated net sales came to $3.3 billion during the first quarter, marking a decrease of 5 percent year-over-year from 2012. Operating EBITDA slid by 8 percent during the quarter to $521 million, compared to the same period in 2012. The company explained that, adjusting for the fewer business days during the quarter and, in the matter of operating EBITDA, for the very favorable effect last year due to the change of a pension plan in its Northern Europe region, net sales declined by 2 percent and operating EBITDA grew by 9 percent during the first quarter of 2013.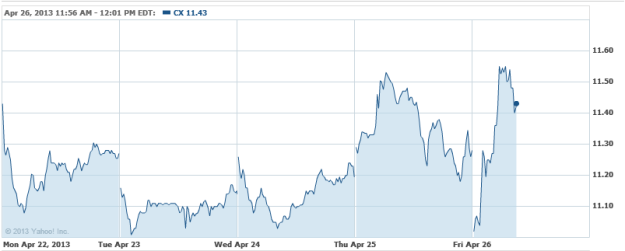 American International Group (NYSE:AIG): Current price $40.73
Chief Executive Peter Eastwood of AIG's Americas property-casualty operation has exited the firm along with three other managers. John Doyle, chief of AIG's global commercial division will take over Eastwood's responsibilities until a permanent replacement is appointed, according to spokesman Matt Gallagher. Meanwhile, Warren Buffett's Berkshire Hathaway hired Eastwood and three other executives, said Insurance Insider.

Investing Insights: Is Yahoo Still an Outperform?