Baidu's New Plan of Attack, Time Warner Cable's Strong Report, and 3 Other Hot Stocks
Baidu (NASDAQ:BIDU): To retain its competitive edge, Chinese internet giant Baidu has acquired video streaming platform PPStream, reportedly for $350-$400 million. Though Baidu did not come out officially to confirm the acquisition, an email from rival Youku–Tudou's CEO mentioned that "increasing consolidation was inevitable throughout the video industry," and that the company was "happy to see this purchase go forward, [and] expects this acquisition will further rationalize the industry and help reduce piracy in the sector."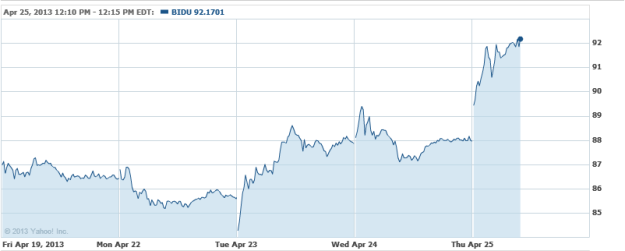 Time Warner Cable (NYSE:TWC): Earnings per share of $1.41 beat estimates by $0.04, and revenue of $5.5 billion represents growth of 6.6 percent year-over-year. High-speed data revenue rose over 17 percent over the same quarter of 2012, and helped to offset a 2.2 percent decline in the video segment. "Business Services continues to perform very well, generating 25 percent year-over-year revenue growth, and is on track for another terrific year. In Residential Services, we're executing on our revitalization plans to build a fundamentally stronger and more agile operation. As a result, I remain very excited about the long-term prospects for this business," said CEO Glenn Britt.

Netflix (NASDAQ:NFLX): In a letter to shareholders, the company announced plans to raise capital to help in producing more original content for the site, to expand its growing library of exclusive content. The company is already pumping $2 billion annually into content investments, posing a threat to profitability. Noting that original programming is cash intensive, the company plans to raise the capital as needed, rather than pulling the money out of domestic profits, as it has done in the past.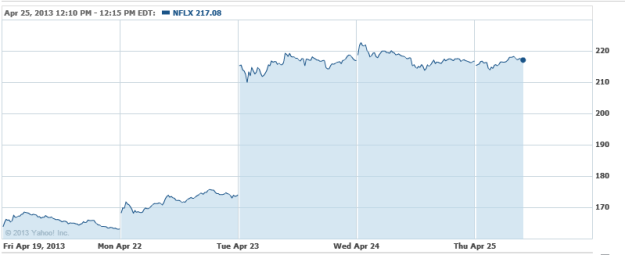 Honda Motor Co. (NYSE:HMC): The Japanese auto maker is forecasting stronger sales for April this year over 2012, according to company officials. "We're confident that April is going to be a strong month," Mike Accavitti, vice president of automobile marketing for Honda's American outfit, said. The Honda nameplate is pegged to grow between 5 and 6 percent, while Acura is planned grow as well, by 10 or 11 percent. The company has been using refreshed and new models to drive growth, and many are leading their segments.

AstraZeneca (NYSE:AZN): The loss of key patent protection on certain products has caused the pharmaceutical company's pretax profits to nosedive 36 percent over last year, while earnings of $1.41 fell short of the $1.87 from last year as well. Operating costs decreased by 4 percent, though they are expected to remain slightly higher for the full year over 2012. Despite the sinking revenue, the company maintained its full-year guidance.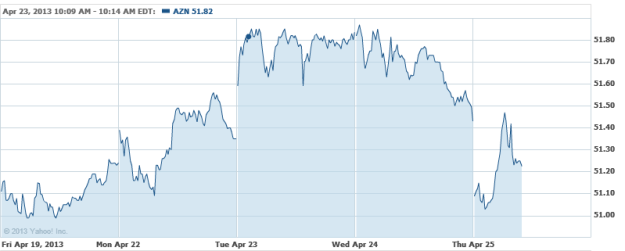 Don't Miss: Can Amazon Compete in This New Arena?