Baker Hughes Earnings: The Rally Continues
S&P 500 (NYSE:SPY) component Baker Hughes Inc. (NYSE:BHI) reported net income above Wall Street's expectations for the first quarter. Baker Hughes Inc. provides products and services for the drilling and evaluation of oil and gas wells as well as fluids and chemicals and reservoir technology.
Don't Miss: Wall St. Cheat Sheet's newest Feature Trades of the Month!
Baker Hughes Earnings Cheat Sheet for the First Quarter
Results: Net income for Baker Hughes Inc. rose to $384 million (87 cents/share) vs. $129 million (41 cents/share) in the same quarter a year earlier. A more than twofold rise from the year earlier quarter.
Revenue: Rose 78.2% to $4.53 billion YoY.
Actual vs. Wall St. Expectations: BHI beat the mean analyst estimate of 78 cents/share. Estimates ranged from 73 cents per share to 86 cents per share.
Quoting Management: Chad C. Deaton, Baker Hughes chairman and chief executive officer, said, "International margins continued to improve in the first quarter, despite weather and geopolitical disruptions, as we made steady progress towards our goal of exiting 2011 with international operating margins in the mid-teens. The foundation of our improvement plan has been managing costs and improving efficiency, which have driven the increase in profitability we have seen to date. As we move towards the second half of 2011, activity growth becomes a more important driver of future improvement."
Key Stats:
The company has now seen net income rise in three-straight quarters. In the fourth quarter of the last fiscal year, net income rose more than threefold and in the third quarter of the last fiscal year, the figure rose more than fourfold.
Competitors to Watch: National-Oilwell Varco, Inc. (NYSE:NOV), Weatherford Intl. Ltd. (NYSE:WFT), Newpark Resources, Inc. (NYSE:NR), Halliburton Company (NYSE:HAL), Flotek Industries, Inc. (NYSE:FTK), Oil States Intl., Inc. (NYSE:OIS), Schlumberger Limited. (NYSE:SLB), Bolt Technology Corp. (NASDAQ:BOLT), Cameron Intl. Corp. (NYSE:CAM), and Lufkin Industries, Inc. (NASDAQ:LUFK).
Today's Performance: Shares of BHI are trading at $77.20 as of April 27, 2011 at 9:57 AM ET, up 4.24% from the previous close.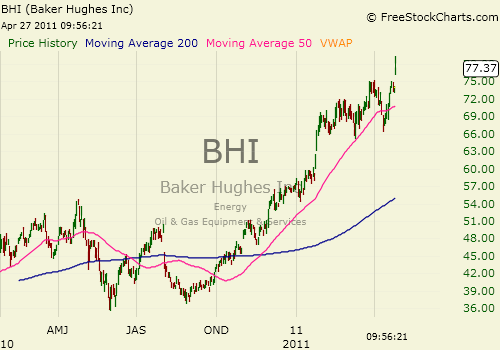 Don't Miss Wall St. Cheat Sheet's newest Feature Trades of the Month!