Ball Fourth Quarter Earnings Sneak Peek
S&P 500 (NYSE:SPY) component Ball (NYSE:BLL) will unveil its latest earnings tomorrow, Thursday, January 31, 2013. Ball Corporation supplies metal and plastic packaging to the household products, food and beverage industries as well as aerospace and other technologies and services to governmental and commercial customers.
Ball Earnings Preview Cheat Sheet
Wall St. Earnings Expectations: The average analyst estimate is for profit of 66 cents per share, a rise of 37.5% from the company's actual earnings for the year-ago quarter. The average estimate is the same as three months ago. Between one and three months ago, the average estimate was unchanged. It also has not changed during the last month. For the year, analysts are projecting net income of $3.08 per share, a rise of 12.8% from last year.
Past Earnings Performance: Last quarter, the company reported profit of 90 cents per share versus a mean estimate of net income of. The company has beaten estimates for the past three quarters.
Start 2013 better than ever by saving time and making money with your Limited Time Offer for our highly-acclaimed Stock Picker Newsletter. Click here for our fresh Feature Stock Pick now!
A Look Back: In the third quarter, profit fell 12.9% to $115.1 million (73 cents a share) from $132.1 million (79 cents a share) the year earlier, but exceeded analyst expectations. Revenue rose 1.1% to $2.28 billion from $2.26 billion.
Here's how Ball Corp traded following its last earnings report 3 months ago and leading up to its upcoming earnings report this week: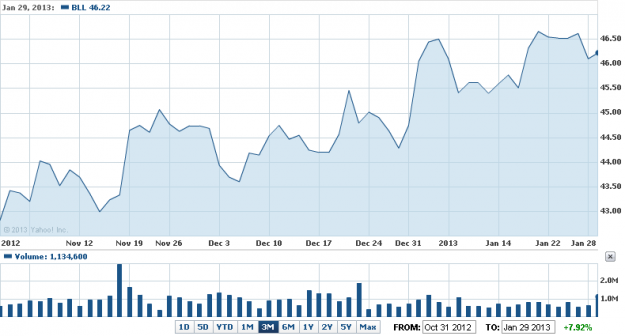 Stock Price Performance: Between October 29, 2012 and January 25, 2013, the stock price rose $3.79 (8.9%), from $42.81 to $46.60. The stock price saw one of its best stretches over the last year between March 22, 2012 and April 4, 2012, when shares rose for 10 straight days, increasing 6.8% (+$2.79) over that span. It saw one of its worst periods between September 13, 2012 and September 21, 2012 when shares fell for seven straight days, dropping 2.4% (-$1.03) over that span.
Wall St. Revenue Expectations: On average, analysts predict $2.11 billion in revenue this quarter, a rise of 2.9% from the year-ago quarter. Analysts are forecasting total revenue of $8.75 billion for the year, a rise of 1.4% from last year's revenue of $8.63 billion.
Key Stats:
On the top line, the company is hoping to build on a revenue increase last quarter. Revenue fell 0.6% in the second quarter after increasing in the third quarter.
Analyst Ratings: There are mostly holds on the stock with seven of nine analysts surveyed giving that rating.
Balance Sheet Analysis: The company's current ratio of assets to liabilities came in at 1.4 last quarter. The current ratio is an indication of a firm's liquidity and ability to meet creditor demands and generally, for every dollar the company owes in the short term, it has that figure available in assets that can be converted to cash in the short term.
Stocks with improving earnings metrics are worthy of your extra attention. In fact, "E = Earnings Are Increasing Quarter-Over-Quarter" is a core component of our CHEAT SHEET investing framework for this very reason. Don't waste another minute — click here and get our CHEAT SHEET stock picks now.
(Company fundamentals by Xignite Financials. Earnings estimates provided by Zacks)