Bank of America and Barclays Face Libor Suit and 3 More Hot Stocks
Bank of America (NYSE:BAC): Bank of America and Barclays (NYSE:BCS) are among a handful of banks being sued by the University of California over Libor manipulation, as the education system accuses the banks of fraud, deceit, and unjust enrichment, among other claims, and it seeks unspecified damages for either paying inflated interest rates or receiving deflated interest rates on its Libor-linked investments.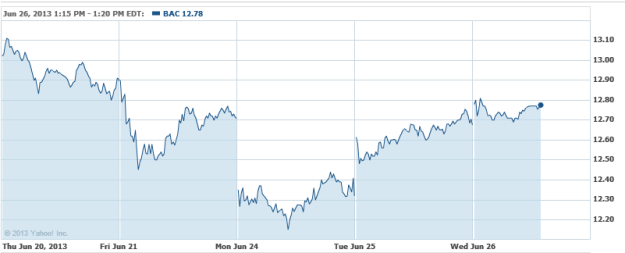 Verizon Communications (NYSE:VZ): Verizon has made an initial offer of about $700 million for Canada's Wind Mobile, according to the The Globe and Mail. Verizon has also recently talked with Moblicity, another second-tier Canadian carrier, and is thinking about taking part in upcoming spectrum auctions. The total costs of entering Canada is pegged at about $1 billion to $2 billion, by analyst estimates.

Intel (NASDAQ:INTC): Intel is reportedly trying out its new streaming service with more than 2,000 of its own employees to get some feedback before the scheduled launch later this year. The test product installed in each home involves early trial hardware and an old version of the user interface design, sources said. The software being tested will have many similarities to the final version — such as how users navigate the system — but the hardware design will be completely different, they said.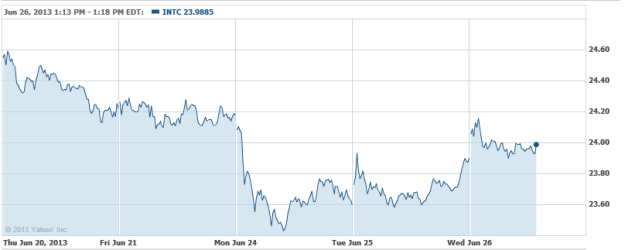 Monster Beverage (NASDAQ:MNST): A second wrongful death suit has been filed against the company, after 19-year-old Alex Morris suffered cardiac arrest just shy of a year ago. The California Coroner's office ruled his death was due to cardiac arrhythmia and cardiomyopathy, after Morris consumed (at least) two 16 oz. cans of Monster's energy drink the day before his death. Monster was quick to point out that "the lawsuit admits that Mr. Morris consumed Monster Energy Drinks for years without incident. Simply because Mr. Morris happened to have consumed a Monster Energy Drink or two on the day of his cardiac arrest does not establish any causal connection between the two."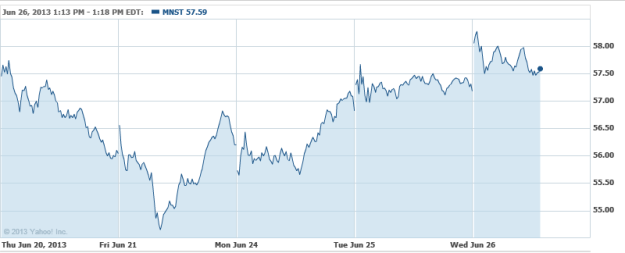 Don't Miss: Are Americans Still Struggling to Save Money?