Bank of America Cuts This High Profile Name
With Bank of America's (NYSE:BAC) dismissal of Matthew Montana, a managing director for the lender's New York equity division, the bank made its most high-profile cut in a rash of moves designed to trim its sales force.
Charlotte-based BofA is clearly having a problem that isn't isolated in the industry: they can't pay for so many sales and trading employees when revenue from the equities division is in decline. Members of the sales team in the distressed debt division – including industry veteran Harvey Potter – join Montana in the cuts. BofA also severed ties with Mathew Unsworth, head of Australian equities. Remarkably, the lender indicated Unsworth's position would cease to exist following his departure.
Morgan Stanley (NYSE:MS), Citigroup (NYSE:C) and UBS AG (NYSE:UBS) are making similar moves, signaling a shift away from a focus on investment banking and fixed-income trading. Citigroup's cuts came to more than 11,000 employees, while BofA shed even more jobs in 2012 – over 14,000 in all. Analysts are pointing to improvements in technology as the reason behind industry-wide cuts. Managing directors are no longer necessary in this changing game. Of course, the decline in production trumps every other reason.
Bank of America's CEO Brian Moynihan targeted his retail division in his quest to cut $8 from his annual budget. Recent stock transactions have left the #2 lender in the U.S. market on the defensive. The firing of Montana – along with the bank's moves in Australia and in U.S. trading – is bound to leave investors cautious about BofA assets.
Recent moves by BofA to upgrade service for high-asset clients might help the company move in the other direction. Ed Riley, a long-time employee of Merrill Lynch (a BofA holding) has joined former Barclays employee Jonathan Miller in focusing on Merrill's clients with wealth exceeding $10 million. The new team's expertise in retirement planning and legacy concerns could be the recipe for success. In other promising news, BofA received a contract to sell beer titan Modelo's convenience store chain.
Here's how Bank of America traded this week: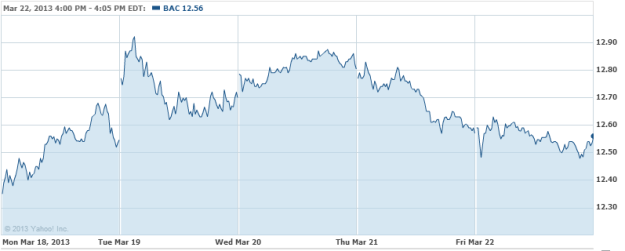 Don't Miss: Do Citigroup Executives Deserve Big Bucks For 2012?