Bank of America Earnings Cheat Sheet: Profitable Quarter But Revenues Drop
S&P 500 (NYSE:SPY) component Bank of America Corporation (NYSE:BAC) posted a decrease in profit behind declining revenue. Bank of America Corporation is a bank holding and a financial holding company which, through its subsidiaries, provides banking and other financial services and products to customers in the United States and abroad.
Bank of America Earnings Cheat Sheet for the First Quarter
Results: Net income for the bank fell to $2.05 billion (17 cents/share) vs. $3.18 billion (28 cents/share) YoY. A decline of 35.6% from the year earlier quarter.
Revenue: Fell 30.6% to $26.88 billion YoY.
Actual vs. Wall St. Expectations: BAC fell short of the mean analyst estimate of 27 cents/share. Estimates ranged from 15 cents to 42 cents.
Quoting Management: "Strong growth in deposit balances and positive contributions from five of our six businesses reflect the steady improvement in the broader economy," said Chief Executive Officer Brian Moynihan. "Our customer-focused strategy is working well, and we also benefited from improved credit quality. While still soft, the economy is healing; we see retail spending up versus the year-ago period and continued declines in bankruptcy filings and delinquency rates."
Key Stats: BAC's profit in the latest quarter follows losses in the previous two quarters. The company reported a net loss of $1.24 billion in the fourth quarter of the last fiscal year and a loss of $7.3 billion in the third quarter of the last fiscal year.
Competitors to Watch: Citigroup (NYSE:C), Deutsche Bank (NYSE:DB), JPMorgan Chase (NYSE:JPM), HSBC (NYSE:HBC), Metlife (NYSE:MET), PNC (NYSE:PNC), U.S. Bancorp (NYSE:USB), Financials (NYSE:XLF) and Wells Fargo & Company (NYSE:WFC).
Today's Performance: Shares of BAC moved to $13 in after hours trading after closing at $13.13.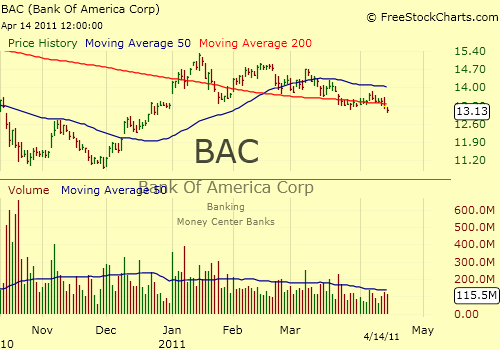 Don't Miss Wall St. Cheat Sheet's newest Feature Trades of the Month!