Bank of America Gets a Boost, Goldman Beats Earnings, and 3 More Hot Stocks
Bank of America (NYSE:BAC): Evercore Partners has lifted its estimates on Bank of America, in "2013 to $1.00 (from $0.91), 2014 to $1.36 (from $1.30), and 2015 to $1.63 (from $1.52), as we model credit costs remaining lower for longer, have incrementally higher confidence in expense saves falling to the bottom line, and see ongoing stabilization in revenue trends." The firm sets a price target of $17, up from $16.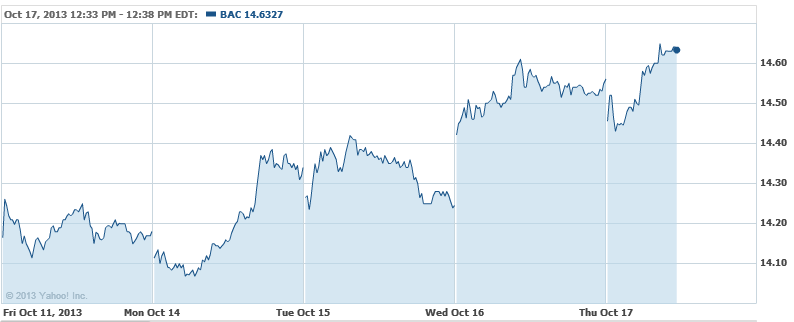 Goldman Sachs Group (NYSE:GS): Despite a hefty earnings beat ($2.88, beating by $0.45), revenues of $6.72 billion fell shy by $0.64 billion for the quarter. "The [third quarter] results reflected a period of slow client activity. Still, we saw various signs that our clients are prepared to act on significant transactions and we believe that the firm is well positioned to help our clients accomplish their objectives," said CEO Lloyd Blankfein. Investment banking revenue of $1.17 billion remained roughly unchanged from a year ago, while advisory (M&A) operations slowed down and underwriting (IPO) businesses grew.

Amazon.com (NASDAQ:AMZN): The state of Wisconsin has tacked on a sales tax to purchases made on Amazon, becoming the 14th U.S. state to do so. National plans to try and enforce a nationwide e-commerce tax have so far been fairly unsuccessful. Leaving states to take the initiative on their own. Reuters reports that the new 5 percent "Amazon tax" will add about $30 million a year to state revenue, Wisconsin Department of Revenue spokeswoman Laurel Patrick said on Wednesday.
American Express (NYSE:AXP): AmEx shares are making gains after the company reported EPS of $1.25, beating by $0.03, after the bell on Tuesday. Revenue also surpassed projections — $8.3 billion beat by $0.1 billion. Cardmember spending rose 7 percent while Card Services net income reached $782 million, up 12 percent over 2012, with an 8 percent increase in cardmember spending and a rise in interest income due to a 4 percent growth in card loans, Seeking Alpha reports. "There is just nothing in our data that would support any particular impact amongst our customer base in what they spend money on from the economic turmoil," CFO Jeff Campbell said.

Pfizer Inc. (NYSE:PFE): The European Commission has expanded the label for Pfizer's pneumococcal conjugate vaccine Prevenar, which now includes information on using the vaccine "in preterm infants, children, and adolescents with sickle cell disease who were previously vaccinated with the 23-valent pneumococcal polysaccharide vaccine, and adults with human immunodeficiency virus infection who were previously vaccinated with the 23-valent pneumococcal polysaccharide vaccine."

Don't Miss: Gasoline or CNG: General Motors Says, 'Why Not Both?'