Bank of America Gets Upgraded, HSBC Puts Jobs On the Block, and 3 Hot Stocks to Watch
Bank of America (NYSE:BAC): An upgrade to shares of Bank of America sent the stocks up on Tuesday morning. Morgan Stanley, which brought the bank from Equal Weight to Overweight, cited accelerating expense cuts which more than offset remaining litigation risks. It also raised its price target significantly, from $3 to $16. "BAC is about to deliver on a significant expense reduction over the next several quarters, which should fall to the bottom line and boost EPS. Also, we expect BAC will be largely through significant litigation risk by [year-end 2013]," said the note.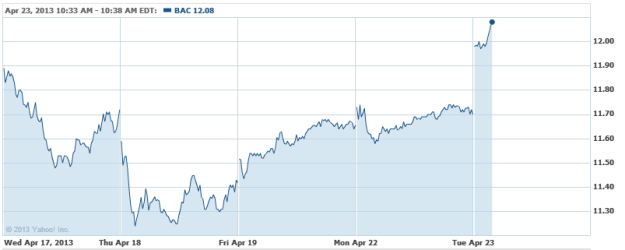 Sucampo Pharmaceuticals (NASDAQ:SCMP): The FDA has approved Sucampo's drug AMITIZA, which it developed in conjunction with Takeda Pharmaceuticals (TKPHF.PK). The drug is the first and only oral medication for the treatment of opioid-induced constipation in adult patients suffering from chronic, non-cancer pain. There are more than 200 million prescriptions for opioid use in the U.S. annually, and a substantial number of these prescriptions are for non-cancer chronic pain, the press release said.

Brinker International (NYSE:EAT): The parent of Chili's Grill and Maggiano's beat estimates on both earnings and revenue, although comparable sales for the Mexican branch fell 1.3 percent (Maggiano's slipped by with 0.4 percent growth). On a per share basis, earnings of $0.72 beat estimates by $0.03. Revenues came in $1.25 million over estimates, and fell at $742.8 million. "We are confident we will meet our 2010 promise of doubling EPS as early as next fiscal year," the press release read, citing solid performance overall.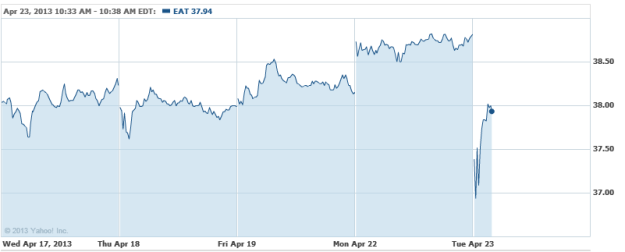 HSBC (NYSE:HBC): In continuing efforts to cut costs, the bank is slimming its U.K. workforce by 1,149, mostly in the wealth management division. In total, the bank employs 47,000 people in Britain, and total layoffs globally are approaching 35,000 in efforts to make the bank more agile and cut its expenses. Understandably, not everyone is happy with the banks actions. "HSBC is making staff suffer in the search for ever greater profits. The bank's behavior is a disgrace," said union officer Dominic Hook.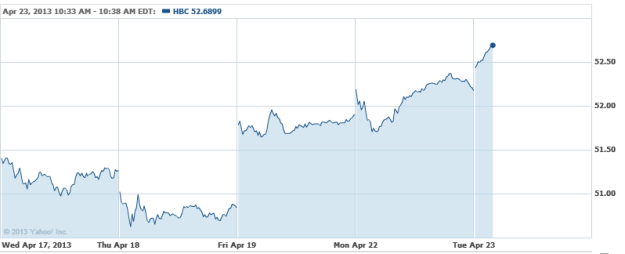 Travelers (NYSE:TRV): Travelers has reported earnings of $2.31, which surpassed expectations by $0.28. Revenue of $6.33 billion beat projections by $0.71 billion. The firm repurchased 3.7 million shares during the quarter, for roughly $300 million. Net and operating income both grew by 11 percent, and the company's board has agreed to raise its dividend by 9 percent.

Don't Miss: Home Prices Are Still Re-Inflating.