Bank of America Holds Emergency Meeting and 2 Hot Stocks to Watch
Zynga (NASDAQ:ZNGA): The company has said it will begin real-money gambling via poker and casino-style games in Britain in partnership with Bwin.party Digital Entertainment. "We see the launch of these games as an important first step toward what could ultimately become an important source of revenue for Zynga and something that differentiates it from other gaming companies," Needham & Co analyst Sean McGowan wrote in a note, reports Reuters. "ZyngaPlusPoker" and "ZyngaPlusCasino" are to be available to British-based gamblers on the Web and as desktop applications from Wednesday.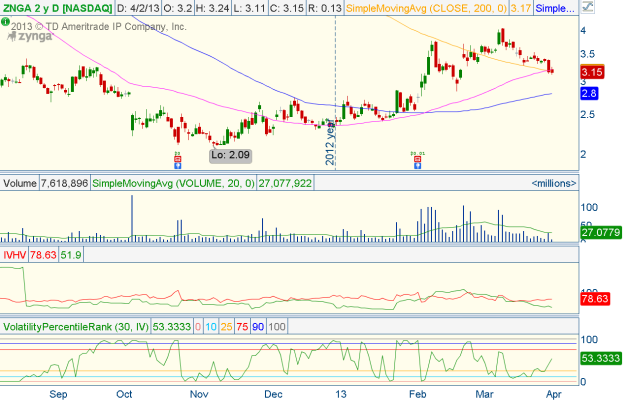 Ares Capital Corporation (NASDAQ:ARCC): The company has priced its public offering of 16,650,000 shares of its common stock, StreetInsider reported. Ares Capital granted the underwriters an option to purchase as many as 2,497,500 more shares of common stock. This offering is subject to customary closing conditions, and will likely close on April 8, 2013. This offering of the shares has been made under Ares Capital's shelf registration statement, which has been filed with, and declared effective by, the U.S. Securities and Exchange Commission.

Bank of America (NYSE:BAC): Bank of America Chief Executive Officer Brian Moynihan has summoned over 100 of his regional leaders to a private meeting in which they will be pushed to boost the lender's flagging revenue, Bloomberg says. Managers at the event in Chicago are to be judged by the progress they've made in assisting to sell more products to the lender's 53 million customers.

Don't Miss: Cyprus Eases Capital Controls, Seeks Better Bailout Terms.