Bank of America Loses Executive and 2 Dow Movers To Watch
Bank of America Corporation (NYSE:BAC): Current Price $12.29
Only weeks after being promoted, Ashish Malhotra, Bank of America Merrill Lynch's chief of debt capital markets for Asia has exited the firm, according to The Wall Street Journal. Malhotra came to Merrill Lynch in 2004 from Deutsche Bank (NYSE:DB). Before assuming the role of Asia DCM head at the United States bank in March, he was head of debt syndicate for Asia Pacific; Malhotra's exit comes amid other personnel moves at the Wall Street bank in Hong Kong of late. In March, BofA Merrill Lynch recruited a number of Deutsche Bank bankers in the city for its equities team, including Ajay Kapur, who will take on the position of chief of Asia equity strategy. In late February it appointed Richard Yacenda, also from Deutsche Bank, as chief operating officer for Asia Pacific.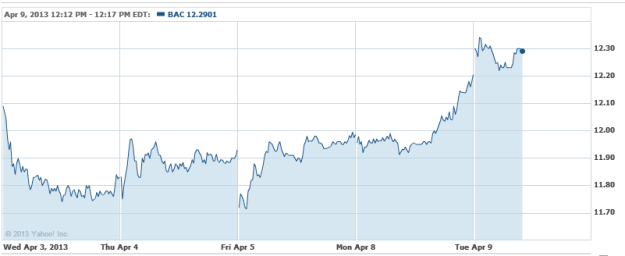 Home Depot (NYSE:HD): Current Price $71.19
Home Depot is voluntarily recalling roughly 11,300 riser cables that fail to meet meet fire-resistance standards, reported the Consumer Product Safety Commission, says Fox Business. The agency said that the recall involves CE Tech riser cable sold in boxes of 1,000-foot lengths, to be utilized as a data cable run between floors of buildings. The Commission said that this type of cable must self-extinguish in a fire. The riser cables were manufactured in China and sold exclusively at Home Depot stores between January and February for around $100. Consumers are advised to remove the recalled cables and return them to Home Depot for full refunds.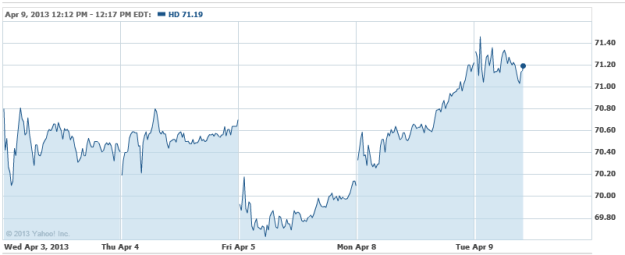 UnitedHealth Group (NYSE:UNH): Current Price $62.13
The new price target on shares is $71, raised by analysts at Credit Suisse on Tuesday, who said that investors are not fully acknowledging the company's pharmacy benefits management division, OptumRx. The analysts maintain an Outperform rating on UNH. This new target implies a 15-percent upside to Monday's close of $61.89. The stock is up 14.1 percent year-to-date, has a divided yield of 1.37 percent based on the close, and the firm's annualized dividend payout is 85 cents per share, says Dividend.com.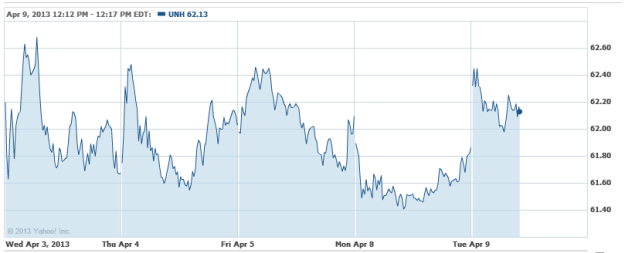 Don't Miss: Is This Obama Budget Proposal Dead On Arrival?