Bank of America Must Face Claims and 2 More Heavily Traded Stocks
Bank of America Corporation (NYSE:BAC): Closing price $12.15
Bloomberg is reporting that Bank of America must face allegations by homeowners that it received kickbacks from private insurers, since a United States District Judge Berle Schiller denied the its request to turn down the lawsuit because the statute of limitations had expired on the claims. The judge said in a ruling that homeowners who sued should be given the opportunity to develop their argument that the claims should be allowed because the bank intentionally hid its behavior, Schiller commented that "Plaintiffs' allegations that defendants dressed up an illegal scheme to appear as a legitimate transaction is sufficient to deny defendants' motion to dismiss."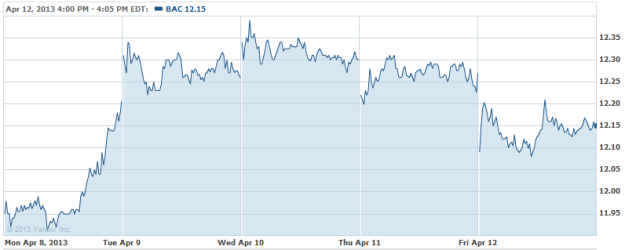 Barrick Gold Corp. (NYSE:ABX): Closing price $22.62
The largest producer by sales suffered its biggest weekly decline in four years after gold prices hit a 21-month low, and the firm ceased construction on the Chilean side of an $8.5 billion project in the Andes, according to Bloomberg. Barrick shares have fallen by 15 percent since April 5, marking the heftiest five-day drop since April 8, 2009. Gold futures in New York slidto the lowest since July 2011 on indications that investors favor the dollar and equities while the world economy recovers.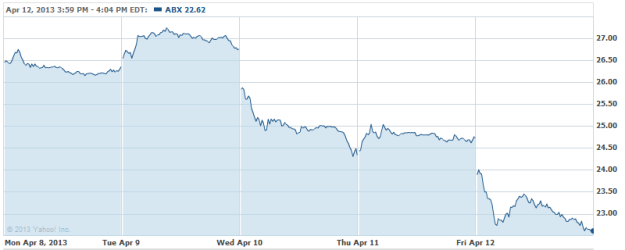 Sirius XM Radio (NASDAQ:SIRI): Closing price $3.08
Sirius XM Radio anounced that Gregory Maffei of Liberty Media (NASDAQ:LMCA) has replaced Eddy Hartenstein as chairman of the board of directors. Sirius XM disclosed on Wednesday in a filing with the U.S. Securities and Exchange Commission that Maffei became chairman in April. Maffei is Liberty Media president and chief executive. The change comes three months after Liberty acquired majority control in Sirius XM and regulators okayed the transfer of Sirius XM's broadcast licenses to Liberty.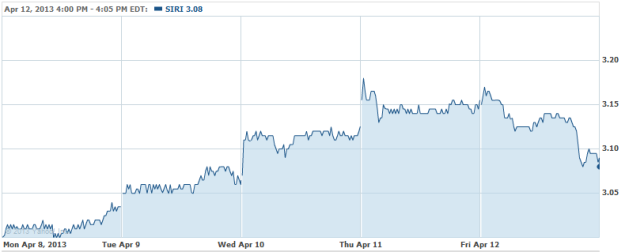 Don't Miss: Bank of America Dodges "Worst Company in America" Title.