Bank of America Practices Charitable Giving and 4 Heavily Traded Shares to Follow
Regions Financial Corporation (NYSE:RF): Current Price: $7.73
The company has reported a Q4 revenue totaling $1.35 billion, consensus $1.35 billion. Furthermore, the company reports an estimated Tier 1 ratio of 12.0 percent and Tier 1 Common ratio of 10.8 percent at December 31, 2012. Regions financial has reported that its tangible common book value per share was at $7.11, which is a rise of $0.09 from the previous quarter.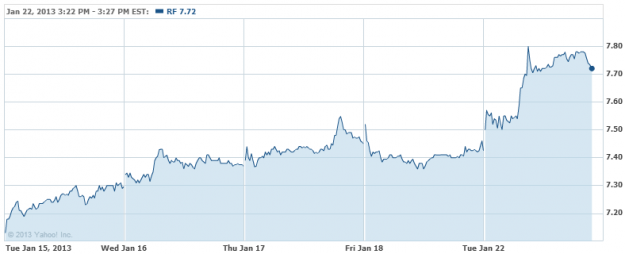 Start 2013 better than ever by saving time and making money with your Limited Time Offer for our highly-acclaimed Stock Picker Newsletter. Click here for our fresh Feature Stock Pick now!
Citigroup Inc. (NYSE:C): Current Price: $41.67
Citicorp's (NYSE:C) Philip Robert-Tissot, who is currently the chairman of Europe, Middle East, and Africa Mergers and Acquisitions, and it will be the next director general of the U.K. Takeover Panel for two years starting on April 1, according to the regulators today, reports Reuters. This Panel is an independent body administering Britain's code on takeovers, and it supervises and regulates deals.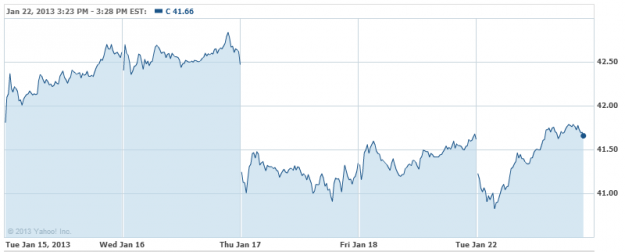 Bank of America Corp (NYSE:BAC): Current Price: $11.33
Today, the Bank of America Charitable Foundation made the announcement that it will provide about $22 million in grants to more than 1,000 nonprofits spanning the U.S. that address immediate critical needs, like hunger and shelter, and longer-term solutions promoting financial wellness via access to benefits and resources. Most grants are expected to support nonprofits which serve low-income communities that have been disproportionately affected by the economic downturn, and over half of the funding is to assist in meeting the increased demands for assistance in hunger relief and shelter.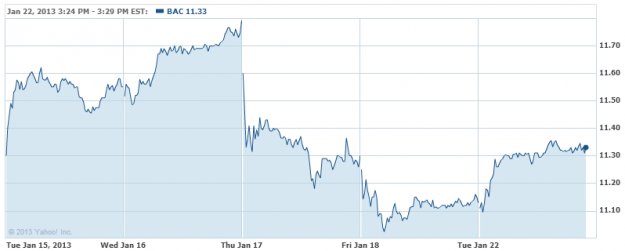 Dell Inc. (NASDAQ:DELL): Current Price: $13.16
As speculation increases that the company is about to go private, last week, Dell at the Open Compute Summit in Santa Clara, California, revealed a new server prototype allowing both 64-bit ARM processors to be installed on the same motherboard as traditional x86 chips. Furthermore, Dell demonstrated management software based on the Open Compute Project standard allowing both processer varieties to be remotely controlled from a single console.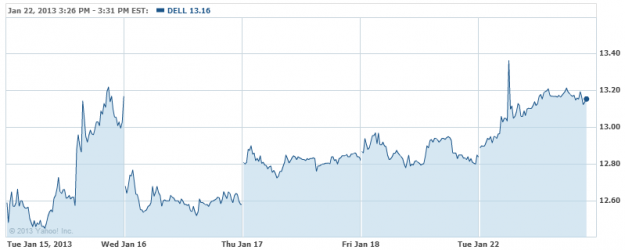 Nokia Corporation (NYSE:NOK): Current Price: $4.58
In hopes to save cash as sales fall, Nokia Corporation will likely get rid of its annual dividend, a first for the company in over two decades, according to a recent Reuters poll of 14 analysts. Of these analysts, eleven believe that Nokia Corporation will not pay any dividend for 2012, versus the previous year's 20 euro cents payment.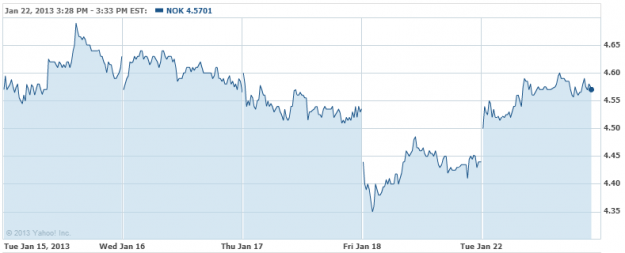 Don't Miss: Why Are These CEOs Feeling Fiscal Cliff Angst?