Bank of America's Cool ATM Innovation and 2 Hot Stocks to Watch
Facebook (NASDAQ:FB): Are Facebook Timelines in trouble? A small social media company based in Chicago has been given permission by a federal judge to sue Facebook over claims that it violated its trademark on the word "timeline," according to the Associated Press. The company, called Timelines, launched its Timelines.com website back in 2009, allowing users to track events famous in history and in their own personal lives. About two years later, Facebook announced its own timeline feature, which allows users to highlight events from their own lives online in a chronological order.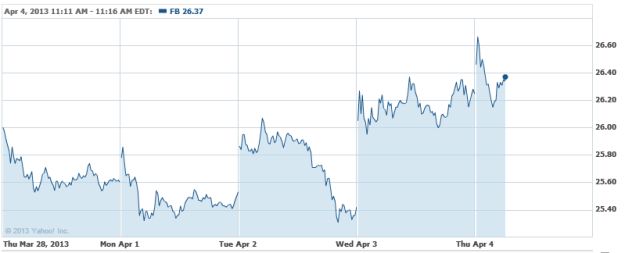 Microsoft (NASDAQ:MSFT): Bank of America Merrill Lynch analysts, who had supported Microsoft since the financial crisis of 2008, have finally removed their Buy rating from the Windows maker's stock. According to the research firm, the reason for the downgrade was the "lack of momentum" for Windows 8. "We were hoping that [Microsoft] would make a bold foray with Windows 8 into smartphones and tablets," the firm wrote in its note, according to MarketWatch. "Now, six months post launch, despite more available touch-based devices, Windows 8 lacks momentum, challenging our optimism."  The new rating on the stock is Neutral.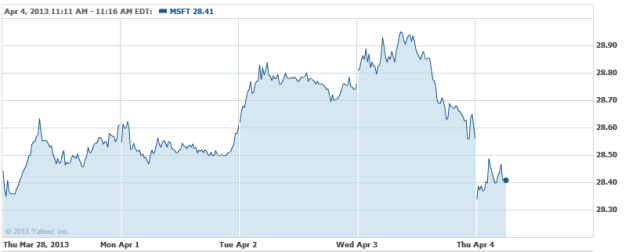 Bank of America (NYSE:BAC): Bank of America has announced the launch of a new banking innovation: ATMs with Teller Assist. This feature combines the technology and convenience of an ATM with the human touch of a teller, according to a release from the company. The new technology gives customers access to a range of services during extended hours to address their daily banking needs, and provides them with convenience, control and flexibility over how, when and where they bank. Using the new ATMs, customers can speak with a Bank of America teller via real-time video and receive the same quality of personal assistance they would if they walked up to a banking center counter.

Don't Miss: Will Mortgage Applications Keep the Housing Recovery Story Alive?