Bank of America's Cost-Cutting Also Cuts Customers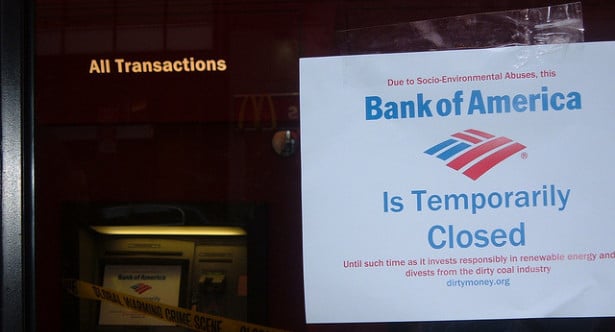 In 2011, Bank of America (NYSE:BAC) announced the Project New BAC campaign. As part of the program, the bank said that it would reduce its headcount by approximately 30,000 people, remove an entire layer of middle management, reduce net expenses by $5 billion through 2014, and generally undertake a massive restructuring of operations to make it more efficient and competitive, according to a company release.
"We don't have to be the biggest company out there," CEO Brian Moynihan said at an investor conference in 2011. "We have to be the best." At the time, the stock was trading at about $13 per share, down from around $36 immediately before the crash. The bank lost billions as the impact of the crises rippled through the financial markets and, even now, it continues to face legal liabilities related to its mortgage business. Shares fell to nearly $5 in 2012.
But Project New BAC appears to be working. Shares have climbed more than 122 percent in the past two years, the bank has restored its fortress balance sheet, and costs are at their lowest level since 2008.
However, while Project New BAC has pleased investors, it has displeased some customers. The massive cost-cutting plan not only reduced headcount, but it has also led to the shuttering of nearly 500 branches over the past two years, effectively pulling the bank out of markets it did not think were economically feasible to operate in.
The bank now operates about 5,328 branches, down from 5,805 two years ago. Bank of America has targeted 5,000 branches by the end of 2014. At some of the branches it is not closing, the bank is ending certain services like drive-up or 24/7 tellers, and the removal of these services — compounded by any number of other minor customer service infractions — has compelled some people to switch banks.
Consumer banking preferences are changing rapidly, but others are also staying the same. Some customers who have become accustomed to drive-up tellers appear unwilling to adopt new technologies like real-time video tellers called Teller Assist. The Charlotte Observer highlighted the story of why at least one person is switching banks.
Teller Assist provides 24/7 access to a teller based in a call center somewhere in the U.S. and is being installed in many ATM locations, according to Bank of America.
Don't Miss: Change of Heart: U.S. Trumping Emerging Markets as Investors Seek Stability.