Bank of New York Mellon Earnings: Not Keeping Up
Falling revenue did not prevent S&P 500 (NYSE:SPY) component The Bank of New York Mellon Corporation (NYSE:BK) from reporting a profit boost in the first quarter. The Bank of New York Mellon Corporation (BNY Mellon) is a global financial services company offering various products and services for individuals and institutions. The main activities of the company and its subsidiaries include asset management, wealth management, and broker-dealer and advisory services.

Don't Miss: Wall St. Cheat Sheet's newest Feature Trades of the Month>>

The Bank of New York Mellon Earnings Cheat Sheet for the First Quarter

Results: Net income for The Bank of New York Mellon Corporation rose to $670 million (50 cents/share) vs. $559 million (46 cents/share) YoY. A rise of 19.9% from the year earlier quarter.

Revenue: Fell 24.2% to $2.84 billion YoY.

Actual vs. Wall St. Expectations: BK fell short of the mean analyst estimate of 56 cents/share. Estimates ranged from 52 cents per share to 61 cents per share.

Quoting Management: "Over the past year, unlike many, we continued to grow revenue and earnings despite the challenging environment, and did so with a clean balance sheet. Sequentially, revenue was lower due to seasonality, as were expenses despite higher litigation costs," said Robert P. Kelly, chairman and chief executive officer of BNY Mellon. "A fundamental strength of our business model is the ability to rapidly grow capital and generate a high return on it. Specifically, in the first quarter of 2011, our capital grew at an annualized rate of 28 percent and we generated a 21 percent return on it. Over time this provides us with superior flexibility to invest in our businesses and return capital to our shareholders," added Mr. Kelly.
Competitors to Watch: Barclays PLC (NYSE:BCS), State Street Corp. (NYSE:STT), Citigroup Inc. (NYSE:C), Bank of America (NYSE:BAC), Northern Trust Corporation (NASDAQ:NTRS), JPMorgan Chase (NYSE:JPM), Goldman Sachs Group, Inc. (NYSE:GS), Morgan Stanley (NYSE:MS), Financials (NYSE:XLF) and Wells Fargo & Company (NYSE:WFC).
Today's Performance: Shares of BK are down 2% in pre-market trading.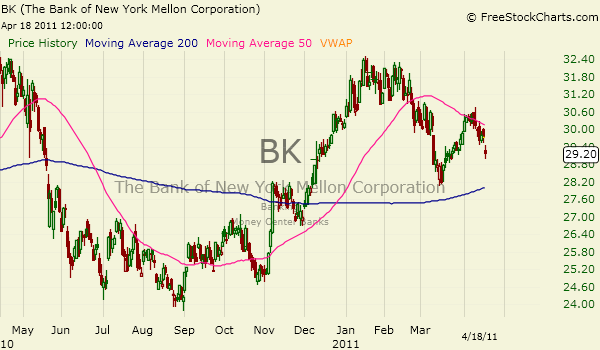 Don't Miss Wall St. Cheat Sheet's newest Feature Trades of the Month!