Barbie Faces Stiff Competition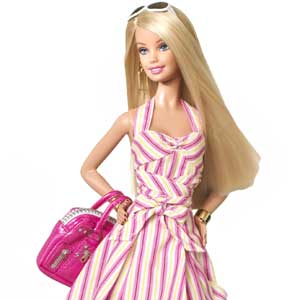 Barbie has been an icon for more than 50 years, but the doll has been having problems lately. In an effort to improve the brand image, the company started a global campaign. It started out in Berlin with a life-size Dreamhouse, but the attraction was quickly targeted by an "Occupy" movement protesting "marketing strategies that allocate a limited gender role to young girls."
The doll has been the target of feminists for decades. The company Mattel (NASDAQ:MAT) noted that Barbie has been and will continue to be "a lightning rod for cultural conversation." Barbie has changed throughout the years though as she was given more than 100 professions, including those of traditionally male-dominated careers such as astronaut.
In Berlin, the doll was accused of being "oversexualized" by the topless German protestors, but that was not the biggest of her problems. Barbie is facing stiff competition from other Mattel dolls. This includes the American Girls series and the Monster High toys, which are supposed to be a series of monsters.
These Monster dolls are skinny like Barbie, but they have fangs, stitches, etc. While Barbie sales decreased 3 percent last year, the doll division that has Monster High saw an increase of 57 percent of revenue. American Girls saw an 8 percent increase in sales.
Barbie is still the number one doll brand in the world, but Monster Girls is already in second place. Mattel is continuing to compete with itself, and it is winning by diversifying and getting sales it might not have otherwise. Even though the Barbie line has had a slump, Mattel is doing well with the highest profits in about two decades and a profit margin of 12 percent.
Mattel is predicting that the Dreamhouse tour will turn things around for Barbie though. The campaign also has a number of tie-ins including three animated movies, a number of television ads, and a partnership with Trulia that will highlight Barbie moving in the fall to find a new dream home. There is a concern that other dolls might be able to kick Barbie out of the spotlight though.
Don't Miss: J.C. Penney: Climbing Out of the Abyss or Falling Further?