Barnes & Noble Tanks on Dismal Results, CombiMatrix Soars, and 3 More Hot Stocks
Barnes & Noble (NYSE:BKS): Shares of Barnes & Noble are off sharply — more than 13 percent — after the company released its less-than-impressive quarterly reports, which saw fourth-quarter earnings per share of -$2.11, missing estimates by $1.12, and revenue of $1.28 billion, which missed by $0.05 billion and represents a 7.4 percent decline year-over-year. The company says results were impacted negatively by Nook inventory charges it was forced to take into account, and revenue fell off 10 percent in the retail segment while falling 35 percent for its Nook segment. The declines were only partially offset by a 24 percent uptick in the college segment revenue.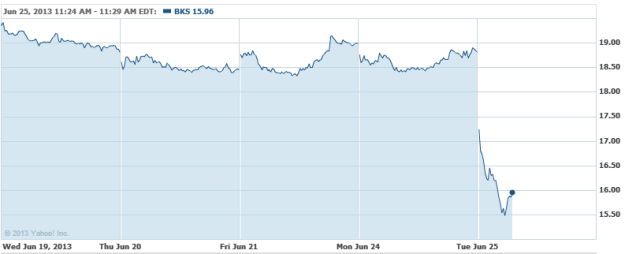 CombiMatrix Corp. (NASDAQ:CBMX): Combi shares are racing over 45 percent after the company received conditional approval from the New York State Department of Health for its Product of Conception test, which the company "will now begin to sell directly to customers."

Rite Aid Corp. (NYSE:RAD): Rite Aid has completed a debt refinancing initiative in order to secure lower interest rates, the company announced. The pharmacy chain still carries a heavy debt burden, despite efforts that have resulted in widened margins and increased sales.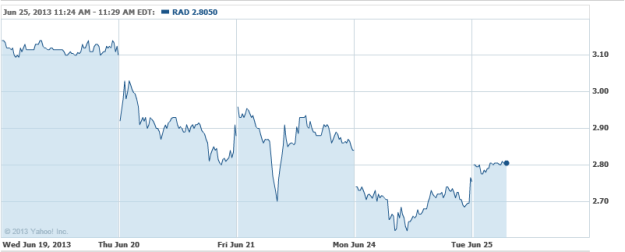 IMAX Corp. (NASDAQ:IMAX): Coming off recent contract wins in the U.K. and Germany, IMAX has announced a third contract completion in Russia, home to some of the best-performing IMAX locations. IMAX believes that Russia could soon be host to 100 screens or more, up from four locations that the company had in 2009 and thirty-four at the end of March this year. "We believe there are tremendous opportunities for growth in Russia and we're pleased to expand our existing partnership with Formula Kino and welcome new partner Kinomir to help us further penetrate the market," said IMAX president Andrew Cripps.

Saks Inc. (NYSE:SKS): Saks might become siblings with fellow retailer Lord & Taylor if Hudson's Bay moves forward with a bid to acquire the company, which it regards as a serious takeover target. In that event, Richard Baker — who stands behind both Hudson's Bay and Lord & Taylor — has a history of buying chains, then selling off the leases of under-performing assets.