Barnes & Noble to Trim Store Numbers and 3 Morning Hot Stocks Trading Today
Starbucks (NASDAQ:SBUX): Current Price $55.93
Coffee chain Starbucks (NASDAQ:SBUX) is feeling aggrieved at being in the limelight over alleged tax evasion by foreign companies operating in the UK. Managing Director for the country met officials on Downing Street after the remark by British Prime Minister David Cameron that companies avoiding tax in the UK should "wake up and smell the coffee." Smarting from the pot shot, Starbucks reportedly warned British officialdom that it could withhold £100 million in new investments in the country that could help create new jobs. Later, however, Starbucks denied the threat, saying, "We do not discuss the details of of government meetings, but can say that we do not recognise how it has been reported." It further said it was on track to open 300 new stores and create 5000 new jobs by 2016 in Britain.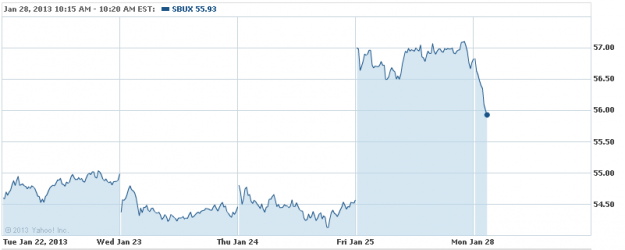 Barnes & Noble (NYSE:BKS): Current Price $12.96
Barnes & Noble (NYSE:BKS) Retail Group CEO Mitchell Klipper informs the Wall Street Journal that the company could close about 20 stores a year in the course of the next decade, reducing the number of its stores from currently 689 to around 450-500 by that time. It's a far cry from the time when the chain was opening 30 or more stores every year until 2009. Competition from online booksellers and digital books have upset the business model for this brick and mortar retailer. It reported a week holiday selling season at its stores, besides declining sales of its new Nook tablets. Regardless, Klipper feels the company has a good business model, even with 450 to 500 stores, as the combined book market, between digital and physical, is showing good growth.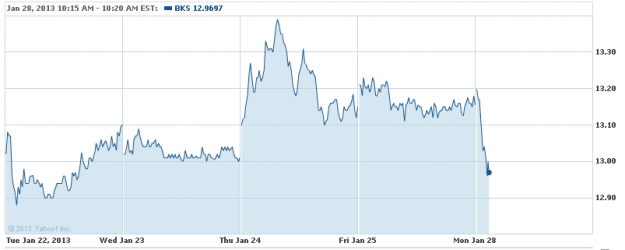 Are these stocks a buy or sell? Let us help you decide. Check out our Stock Picker Newsletter now.
Toyota Motor Corp (NYSE:TM): Current Price $94.55
Toyota Motor Corp (NYSE:TM) announced it sold a record 9.748 million vehicles during 2012, thus regaining its crown as the world's biggest automobile seller, which it had lost after its production suffered due to natural disasters in Japan. Toyota bounced back with a 35% rise in auto sales in Japan, and a 19% jump in overseas sales during 2012. "Rather than going after numbers, we hope to make fine products, one by one, to keep our customers satisfied. The numbers are just a result of our policy. And our policy will continue unchanged," the company said. General Motors Co (NYSE:GM) sold 9.29 million vehicles, while world No 3 Volkswagen AG sold 9.1 million vehicles globally.

Goldman Sachs Group Inc (NYSE:GS): Current Price $143.77
Goldman Sachs Group Inc (NYSE:GS) is putting on the block a portion of its stake in Industrial and Commercial Bank of China Ltd, after the latter's shares appreciated almost 50% compared to their low last year. The $1 billion stake is being offered at HK$5.77 a share, which is a 3% discount to the closing price of the stock today. Goldman Sachs and a clutch of its client funds invested $2.58 billion in ICBC in 2006, and this latest sale would be the fifth tranche sold out of that investment.

Don't Miss: Here's Why CEOs are Less Confident About 2013.