Bears Hit BlackBerry, News Corp. Gets a Downgrade, and 3 More Hot Stocks
BlackBerry (NASDAQ:BBRY): Following a day or two of decent gains, BlackBerry shares have come back down, following a double whammy from Bernstein, which now rates the stock a Sell, and says it "believes the company's earnings will peak in the first quarter and there is significant risk of a miss in the second half." Additionally, OTR Global says U.K. Q10 sales fell off a cliff and have been – "not a typo" – just 30,000-50,000 units since launch.

News Corp. (NASDAQ:NWSA): Fresh off a sum-of-the-parts analysis of the news giant, BTIG Research has lowered its rating from Buy to Neutral, after its math revealed that a when-issued trading price of around $15 per share ($3.72 for the current NWS or NWSA share) could drift to $20, if the newspaper business yields stronger than expected results.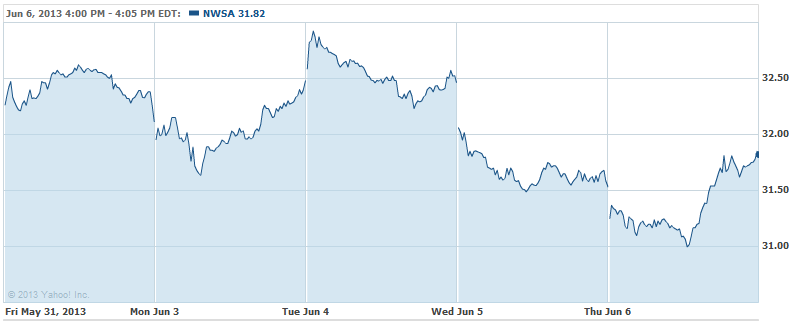 Eli Lilly and Company (NYSE:LLY): Lilly's injectable antipsychotic drug Zyprexa is under FDA investigation, after two patients died within four days of receiving the treatment. The deceased patients had very high levels of the drug — which earned the company $1.7 billion in sales last year — in their system, and can result in delirium, cardiac arrest and arrhythmias, comas, or loss of consciousness. However, the agency has not yet claimed that the patients were overdosed.

Tesla Motors (NASDAQ:TSLA): Tesla has issued a partial recall of its Model S sedans, stemming from a weakened mounting bracket on models built and delivered between May 10th and June 8th. CEO Elon Musk — who wrote the recall statement — pointed out that there have not been any customer complaints or injury due to the issue and no regulatory body has brought it to the company's attention, but that the fault "reduces our confidence that the left hand seat back will be properly retained in the event of a crash."

Honda Motor Co. (NYSE:HMC): Honda has settled its lawsuit over engines that failed to meet emissions standards, and has agreed to pay $580,000 over the matter, which involved 437,000 nonroad engines. Additionally, the company also sacrificed some of its carbon credits. The case was settled to avoid the costs of litigation, "as well as the business distractions that litigation brings," Honda said in a statement.

Don't Miss: 8 Companies Dominating Online Video.