Bears Struggle on Field and on Wall Street
One of the most intriguing aspects of financial writing is the various colorful aphorisms that abound in this business. We enjoy comments like "the trend is your friend," and we hope to "let our winners run" while we watch "bulls and bears" struggle for control of the hearts and minds of the markets.
One of my favorites and I think the one most applicable for today is the concept of the "waterfall" or the "waterfall decline." It's certainly a visual image and one that can clearly be seen on charts like the recent Shanghai Composite that we'll take a look at in a moment.
With each passing day, the probability of a waterfall decline in U.S. markets becomes more likely.
On My Radar
On a technical basis, the markets remain overstretched and ripe for a correction, while fundamentally, we saw selling on good news and earnings that are "good" now suddenly don't appear to be "good enough." By many analysts' measurement, the market is overvalued by as much as 50-60% with one of my favorites, Tobin's Q, developed by Nobel Prize Winner, James Tobin, currently indicating an overvaluation of 63% (Doug Short)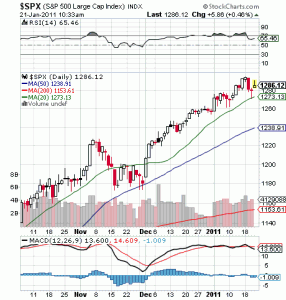 In this chart of the S&P 500 (NYSE:SPY), we can see that we're still in a definite uptrend with prices above the 20, 50 and 200 day moving averages, however, RSI is in the oversold, "red zone," and MACD has recently switched to a "sell" signal.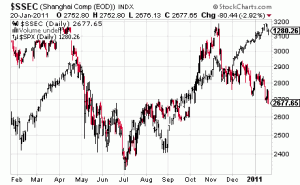 Looking at the chart of the Shanghai Composite (NYSE:FXI), we see it in the red and black candlesticks with the overlay of the S&P 500 in black bars. It's easy to see how the two have been closely correlated until just early December and the "waterfall declines" last April and more recently since November in the Shanghai are clearly visible.
This recent negative divergence between the two indexes is an alarming development and one which most likely will need to be resolved with either a rally in China or a correction in the U.S. market.
Finally taking a look at the "health" of the overall market, we see a definite case of "Bad Breadth" which could definitely be worse than bad breath and not easily cured with a breath mint.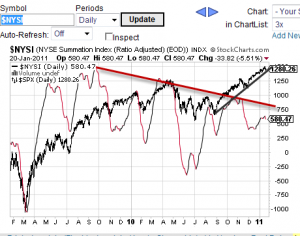 Here we see a chart of the NYSE Summation index, and here, too, we see a negative divergence between the S&P in black and the Summation in red. The Summation is a measurement of market breadth, comparing the number of advancing stocks to declining stocks, and here we see that while the S&P has continued its recent climb, the Summation Index has been in decline, indicating that a smaller and smaller number of stocks in the universe of the New York Stock Exchange is participating in the current rally.
The View From 35,000 Feet
Last week's news was mostly good with existing home sales up 12%, job claims down and building permits advancing 17%, but still from historically moribund levels.
Overall, earnings have been positive, particularly in the tech sector, and this week will be the test of earnings seasons with over 100 reports coming from S&P 500 companies.
On the bad news side of things, the 10 Year Treasury yield hit a six week high while the 30 year hit an eight month high as the rout in the bond market continued. The spread between the 5 and 10 year notes is extremely steep at current levels and indicates the bond market's concern about the prospects of future inflation. Of course, rising yields are bad news for stocks in general, for credit, lending and economic growth and for the Fed's current drive to lower interest rates through their ongoing quantitative easing programs.
Further bad news came in the bond market with last week's TIPS (Treasury Inflation Protected Securities) sale bringing a record dollar amount to market that was met by the lowest demand in almost two years.
Four banks failed on Friday, bringing the year's total to 7 and we could see an ongoing stream of failures as 860 banks currently reside on the FDIC problem bank list.
Overseas, Ireland's government was thrown into turmoil this weekend as the Greens left the government, destroying Brian Cowen's majority and likely triggering an early election and more uncertainty over the Irish bailout package and attempts to return to fiscal solvency.
Whispers abound over the possibility of Greece restructuring its debt while the European Union presses ahead with various ideas to beef up their economic rescue efforts on the Continent.
At home, the debate over raising the debt ceiling is sure to heat up as the March target date for reaching the ceiling rapidly approaches and President Obama delivers his State of the Union message on Tuesday. This will come against the backdrop of the debt ceiling, renewed calls for "austerity" in Congress and the not so quiet whispering of Newt Gingrich that Congress will soon be considering a bill to allow states to declare bankruptcy as a way to alleviate their gargantuan credit woes. With California and Illinois in junk status and many other states facing gaping budget deficits, such talk, not to mention action, could be a major earthquake in the supposedly rock solid municipal bond market which has largely been considered to be the ultimate safe haven.
What It All Means
Interesting times indeed as the roar of the waterfall grows louder.
The Week Ahead
This week will see a rash of earnings reports as we previously mentioned, including reports from closely watched corporations like ATT (NYSE:T), American Express (NYSE:AXP), Yahoo (NASDAQ:YHOO), Boeing (NYSE:BA), Caterpillar (NYSE:CAT), D.R. Horton (NYSE:DHI), Procter & Gamble (NYSE:PG), Amazon (NASDAQ:AMZN) and Microsoft (NASDAQ:MSFT). With reports coming from nearly every sector of the economy, we should have a much clearer picture by week's end about how these companies are faring in the current environment.
And on Wednesday we hear from Chairman Bernanke and his colleagues at the Federal Reserve whose every word will be sliced and diced for hints of their outlook on the economy and planned future actions by their august body.
Economic Reports
Tuesday: Case/Shiller Home Price Index, January Consumer Confidence
Wednesday: December New Home Sales, FOMC meeting
Thursday: Initial Unemployment Claims, Continuing Unemployment Claims, December Durable Goods, November Pending Home Sales
Sector Spotlight
Winners: (NYSE:EWI) Italy, (NYSE:EWP) Spain, (NYSE:VXX) CBOE Volatility Index
Losers: (NYSE:USO) Oil, (NYSE:MOO) Agriculture, (NYSE:XLB) Materials
Disclosure: No positions in the ETFs mentioned. Wall Street Sector Selector actively trades a wide range of exchange traded funds and positions can change at any time.
John Nyaradi is the author of Super Sectors: How To Outsmart the Markets Using Sector Rotation and ETFs.
Improve Your 2011 Financial Health: Join the winning team of stock pickers with Wall St. Cheat Sheet's acclaimed premium newsletter >>