Beazer Homes Earnings: The Lack of Tax Credits Hurt
Beazer Homes USA, Inc. (NASDAQ:BZH) swung to a loss in the second quarter, missing analysts' forecast. Beazer Homes USA, Inc. designs, sells and builds single-family and multi-family homes in the United States.
Don't Miss: Wall St. Cheat Sheet's newest Feature Trades of the Month!
Beazer Homes USA Earnings Cheat Sheet for the Second Quarter
Results: Swung to a loss of $54.6 million (74 cents/diluted share) in the quarter. The Beazer Homes USA, Inc. had a net income of $5.3 million or 9 cents per share in the year earlier quarter.
Revenue: Fell 35.7% to $127.5 million YoY.
Actual vs. Wall St. Expectations: BZH missed the mean analyst estimate of a loss of 47 cents/share. Estimates ranged from a loss of 32 cents per share to a loss of 88 cents per share.
Quoting Management: "As expected, year-over-year comparisons were unfavorably impacted this quarter by the First Time Homebuyers' Tax Credit which pulled forward sales volumes into the second quarter of 2010," said Ian McCarthy, President and Chief Executive Officer of Beazer Homes. "However, we did see seasonal improvement with orders and gross margins up over the first quarter of fiscal 2011. We are hopeful that the latest improvements in employment will help lift consumer confidence in the coming quarters, which is necessary for any significant recovery in housing to occur."
Competitors to Watch: M.D.C. Holdings, Inc. (NYSE:MDC), KB Home (NYSE:KBH), Hovnanian Enterprises, Inc. (NYSE:HOV), D.R. Horton, Inc. (NYSE:DHI), M/I Homes, Inc. (NYSE:MHO), Orleans Homebuilders (OHBIQ), NVR, Inc. (NYSE:NVR), The Ryland Group, Inc. (NYSE:RYL), PulteGroup, Inc. (NYSE:PHM), and California Coastal Communities, Inc. (CALCQ)
Stock Performance: Shares of BZH down 5% from the previous closing price of $4.56.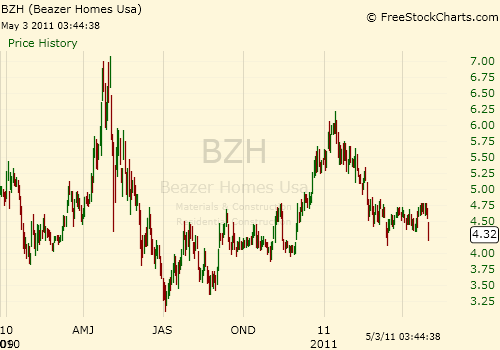 Don't Miss Wall St. Cheat Sheet's newest Feature Trades of the Month!