Bemis Company Earnings: Could Not Deliver the Goods
S&P 500 (NYSE:SPY) component Bemis Company, Inc. (NYSE:BMS) reported higher profit for the first quarter as revenue showed growth. Bemis Company, Inc. is a manufacturer of flexible packaging products and pressure-sensitive materials for customers worldwide.
Don't Miss: Wall St. Cheat Sheet's newest Feature Trades of the Month!
Bemis Company Earnings Cheat Sheet for the First Quarter
Results: Net income for Bemis Company, Inc. rose to $51.2 million (47 cents/share) vs. $30.8 million (28 cents/share) in the same quarter a year earlier. A rise of 66.4% from the year earlier quarter.
Revenue: Rose 29.6% to $1.32 billion YoY.
Actual vs. Wall St. Expectations: BMS fell short of the mean analyst estimate of 53 cents/share. Estimates ranged from 50 cents per share to 56 cents per share.
Quoting Management: "Increasing raw material costs have created a challenging environment for our flexible packaging business," said Henry Theisen, Bemis Company's President and Chief Executive Officer. "I am pleased to report that we are growing sales volumes in our targeted product categories, and we are on track with our plan to optimize our manufacturing platforms by concentrating the production of certain products in the most profitable location for such processes. Unfortunately, raw material cost increases for specialty resins were more dramatic than we had anticipated. In addition, the price adjustment formulas in the customer agreements that we acquired with the Food Americas business delay selling price increases beyond our normal policy timeframes. This decreased margins during the first quarter and reduced our profit expectations for the second quarter. By the third quarter of 2011, we expect operating profit to begin to improve as most selling prices should be adjusted to reflect the impact of the raw material cost increases earlier in the year."
Key Stats:
The company has enjoyed double-digit year-over-year revenue growth for the past five quarters. Over that span, the company has averaged growth of 35.8%, with the biggest boost coming in the second quarter of the last fiscal year when revenue rose 46.6% from the year earlier quarter.
The company has now seen net income rise in three-straight quarters. In the fourth quarter of the last fiscal year, net income rose more than twofold and in the third quarter of the last fiscal year, the figure rose 71.4%.
Competitors to Watch: Sonoco Products Company (NYSE:SON), Sealed Air Corp. (NYSE:SEE), Rock-Tenn Company (NYSE:RKT), AptarGroup, Inc. (NYSE:ATR), Amcor Limited (AMCRY), and Can Tho Sadico Joint Stock Corp (NYSE:SDG).
Today's Performance: Shares of BMS are trading at $31.59 as of April 28, 2011 at 11:27 AM ET, down 1.7% from the previous close.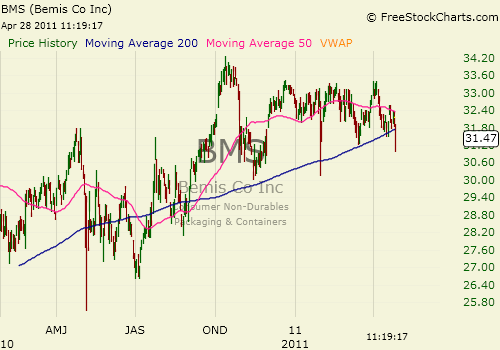 Don't Miss Wall St. Cheat Sheet's newest Feature Trades of the Month!