Benefits Under Consideration: Food Stamps for the Guillotine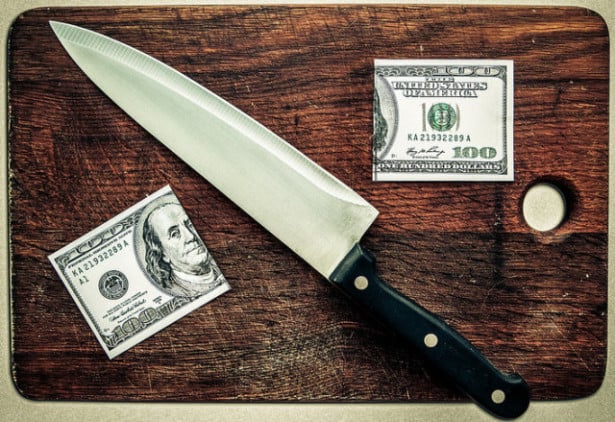 Fewer food stamp benefits are in our nation's future based on impending cuts ahead. November 1 marks the end of 2009′s increase in food stamp funds from the stimulus bill. $5 billion will be cut over the next year. This cut to the Supplemental Nutrition Assistance Program would shrink the average aid by about 5 percent, according to the Center on Budget and Policy Priorities, which also notes that cuts would have a serious effect on some households' benefits.
"A household of three, such as a mother with two children, will lose $29 per month, equivalent to about 16 meals a month for a family of three based on the cost of the U.S. Agriculture Department's 'Thrifty Food Plan,'" said the Center, adding that households receiving SNAP largely "include children, seniors, or people with disabilities, more than 21 million children — that is, more than 1 in 4 of all children — live in a household that receives SNAP."
According to the Washington Post, the food stamps cut isn't the only concern regarding federal benefits. The farm bill is up for debate, Senate and House members looking to cut anywhere from $4.5 billion over ten years to $39 billion over the same time span. The Center on Budget and Policy Priorities insists that "proponents mischaracterize some of the proposal's severe provisions as 'work requirements.'"
The goal would be to narrow eligibility, but the Center says restrictions would be terminating "basic food assistance to people who would take any job or job training opportunity offered but cannot find one; the proposal does not require states to provide jobs or job training."
Days ago, President Obama spoke on the farm bill, insisting Monday that "we should be able to pass a farm bill that helps rural communities grow and protects vulnerable Americans in hard times," just the latest in a number of comments on the bill. Earlier this month he put in a more extensive plug, asking that Congress pass a bill that "protects vulnerable children and adults in times of need."
Don't Miss: White House to Democrats: Economy Justifies Entitlement Cuts.