Berkshire Breaks $10B, Macy's Delays Chinese Web Store, and 3 More Hot Stocks
Berkshire Hathaway (NYSE:BRKA): Berkshire's investment infusions into crisis-laden Wall Street during the recession has netted some $10 billion for the company: Warren Buffett made a substantial collection from candy titan Mars last week. "In terms of simple profitability, an average investor could have done just as well investing in the stock market if they bought during the panic period," Buffett noted.

Macy's Inc. (NYSE:M): Macy's has put Internet expansion plans in China on hold, attributing the decision to the store's desire to learn more about Chinese consumers. Macy's denied that the move was due to China's slowing economy or the level of demand for luxury goods in the country. Macy's was planning to launch Internet sales of a private-label brand in China in the spring, after it acquired a minority interest in local retail company VIPStore last year.

Sanofi-Aventis (NYSE:SNY): CEO Chris Viehbacher is expecting the company to return to growth in the fourth quarter after having "come through the deepest and most concentrated patent cliff in the industry." Sanofi lost the IP protection on nine of its drugs in the past three years, which hit its earnings hard, but it now doesn't face the expiry of patent protection on brand name drugs and it's introducing new treatments, Seeking Alpha reports.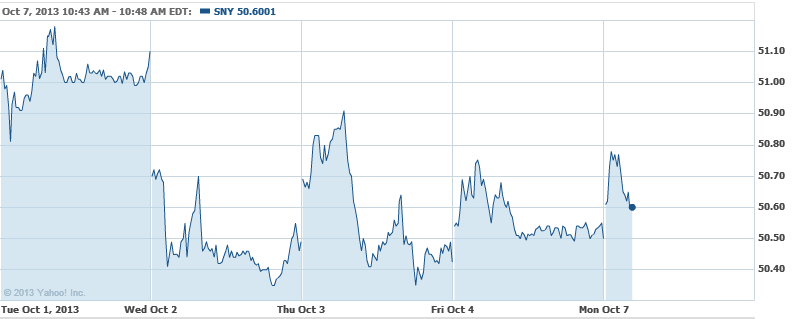 Navistar International Corp. (NYSE:NAV): Navistar announced that it will be launching an offering of $200 million of senior notes in a private offering and will put the resulting funds toward general corporate purposes including refinancing and capital expenditures.

Hertz Global Holdings Inc. (NYSE:HTZ): Hertz will be reducing the size of its rental fleet over the next six months in a gradual effort to curb the level of surplus vehicles. CEO Mark Frissora says that Hertz will be selling off some of its fleet to consumers and doesn't anticipate and disruptions of service during the process.

Don't Miss: Wal-Mart Runs into Trouble in India.