Berkshire Brings AIG Executives On Board and 3 Other Hot Stocks
Berkshire Hathaway (NYSE:BRKB): Berkshire has big plans to break into the commercial insurance industry, and it has hired four executives from AIG (NYSE:AIG) to do so. "We would like to get into the commercial-insurance business very big time," CEO Warren Buffett said. "We hired them because they're very good at the commercial insurance business." Peter Eastwood, chief executive officer of AIG's property- casualty operation in the Americas, was a notable hire by Berkshire. See what Buffett had to say about America's economy.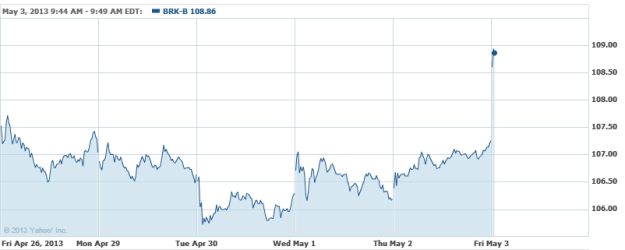 Royal Bank of Scotland (NYSE:RBS): Sir Phillip Hampton, CEO of RBS, has announced that the bank may be ready to return to the private sector within a year, BBC is reporting. The troubled bank had been accruing losses tied to sour loans that are now finally stabilizing. "What we want to do is have a business that is performing well… enabling the government to start selling shares from, let's say, the middle of 2014 on — it could be earlier, that's a matter for the government – but certainly we think the recovery process will be substantially complete in about a year or so's time," Hampton said.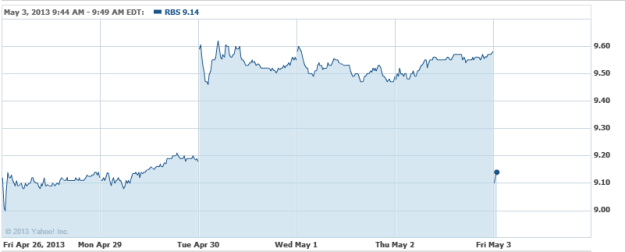 Life Technologies (NASDAQ:LIFE): It was a sturdy quarter for Life, which reported earnings of $1.07, beating by $0.03 per share. Revenues of $963 million beat by $4.5 million. Bioproduction and forensics both saw double digit growth and emerging markets performed strongly, offsetting more cautious spending in the U.S. and Europe.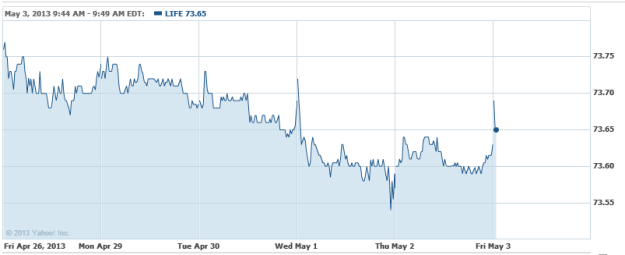 Duke Energy (NYSE:DUK): First quarter earnings of $1.02 missed estimates by $0.02, although revenue of $5.9 billion beat by $0.16 billion. Lowered electricity demand brought profits down, courtesy largely of its commercial customers. The company stood behind its fully year guidance, projecting earnings of $4.20-$4.45 versus a $4.34 consensus estimate.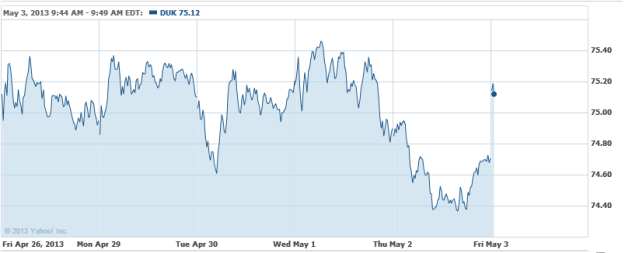 Don't Miss: Chart of the Day: These 5 American Giants Lead the Way.