Berkshire Hathaway Vs. AIG: What's at Stake?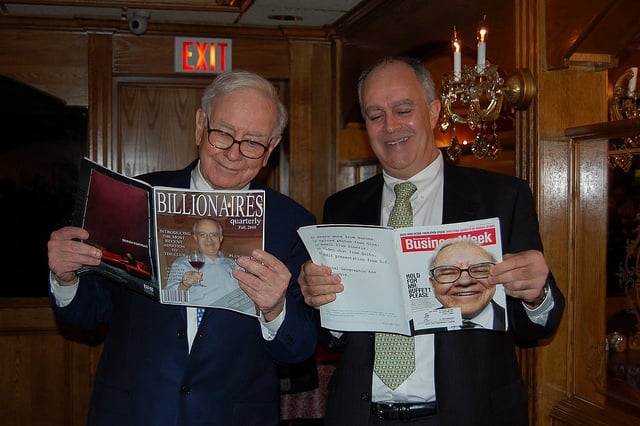 If battles of the business world are like title fights, Berkshire Hathaway (NYSE:BRK.A) versus American International Group, Inc. (NYSE:AIG) would be the heavyweight tilt, replete with fear and loathing. According to a Wall Street Journal report, a somewhat nasty battle is being waged between commercial insurance stalwart AIG and Warren Buffett's Berkshire, which has a growing business in this sector. At stake are billions of dollars and the future of the industry.
The bad blood between the two companies started when four AIG executives joined Berkshire's insurance division in the spring, which prompted polite public statements from AIG that masked what was reportedly rancor behind the scenes. Berkshire, for its part, maintained that the hiring was not meant to be a slap in the face, according to the WSJ report. The Berkshire insurance chief knew them well and considered them a perfect fit for the job.
Yet it was taken as something of an insult by AIG, which has the power to do more than say mean things in the press about its new rival. AIG had been in the habit of sending a wealth of business to Berkshire's reinsurance division. According to the Wall Street Journal, Berkshire received more AIG reinsurance work than any other company. Effective immediately, AIG is stopping that practice.
Estimates provided by the WSJ report indicate 8.5 percent of Berkshire Hathaway's entire reinsurance business came from AIG referrals, equal to more than $2 billion as of last year. AIG has the power to stop sending future business Berkshire's way, though canceling or renegotiating existing contracts would likely be more problematic.
Berkshire doesn't appear concerned about future business. According to the WSJ report, nearly one-third of its 62 employees in commercial insurance are ex-AIG people.
That amounts to a major defection. Warren Buffett has been vocal about wanting to grow his company's insurance business in the coming years, and it has the staff to do it. For now, his team simply can't expect to get any more assists from AIG, unless more ex-employees start looking for work. In that case, Buffett & Co's door will likely be open.
Don't Miss: Do Stock Exchanges Need a Kill Switch?