Berkshire Hathaway's 13F Report, Europe Remains Challenging for Ford, and 3 More Hot Stocks
Berkshire Hathaway (NYSE:BRKA): Notes from Berkshire's recent 13F release show the company increased its stake in General Motors, Chicago Bridge & Iron, VeriSign, BNY Mellon, U.S. Bancorp, and National Oilwell Varco. It lessened or removed its holdings in Gannett, Mondelez International, Kraft Foods, Moody's, and GlaxoSmithKline. Berkshire also opened positions in Dish Network and Suncor Energy.

Ford Motor Co. (NYSE:F): Ford's shares are off as a top executive forecasts intense pricing pressures in Europe will continue with sales volumes still soft. "From a pricing perspective I'm not seeing any relief at the moment yet," Ford Europe sales chief Roelant de Waard said in an interview with Reuters. Although the company has made substantial progress in the troubled market, it has come to the detriment of margins, which have been dented by incentives and discounts.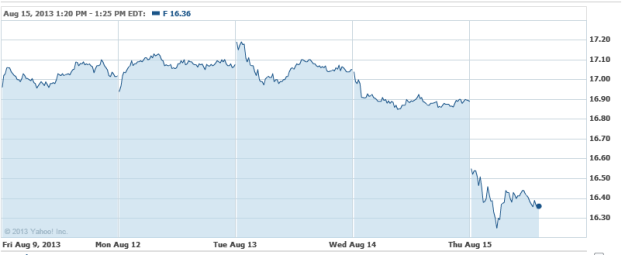 J.C. Penney (NYSE:JCP): Sources are indicating that same-store sales are "tracking positive" for August, sending J.C. Penney shares surging in late trading on Wednesday. However, the excitement could be a bit much, according to Bloomberg reporter Matt Townsend, who believes that positive growth is already forecast by analysts to show comparable sales up 1 percent to 2 percent for the second half. The retailer may be just holding serve with its sales uptick, Townsend explains.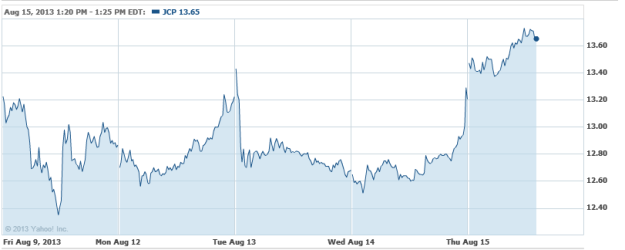 Herbalife Ltd. (NYSE:HLF): Financial titans George Soros and Carl Icahn purchased a combined 5.65 million shares in Herbalife in the second quarter as they continued to battle with Bill Ackman over the validity of the company's business model, Seeking Alpha reports. Soros picked up a 4.9 percent holding that was valued at $227.5 million at the end of the period. Icahn, as the company's largest individual shareholder, bought 611,354 additional shares to bring his total to 17 million, a 16.5 percent stake worth $765.9 million.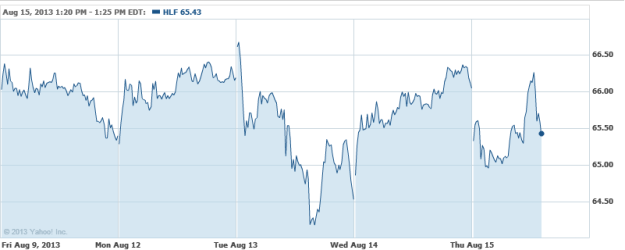 Novartis AG (NYSE:NVS): The Swiss drug giant has received approval in Australia for its Bexsero vaccine, designed to protect infants against MenB, a major cause of meningitis. The approval joins the authorization in Europe, and the drug is now licensed in more than 30 countries. Separately, Novartis has opened its investigation into Chinese bribery claims made by a former employee.