Berkshire's BofA Warrants, Disney Bids Adieu to Bruckheimer, and 3 More Hot Stocks
Berkshire Hathaway (NYSE:BRKA): "Basically we love the position of being an owner," said Warren Buffett, referring to the 10-year warrants Berkshire received when it purchased a $5 billion preferred stake in Bank of America (NYSE:BAC) in 2011. The warrants are valued at $7.14 each; Berkshire can purchase up to 700 million shares at that price. BofA's closing price on Thursday was $14.61. However, Buffett expects to hold the warrants until near expiration and then convert them to common stock, Seeking Alpha explains.

Walt Disney Co. (NYSE:DIS): Disney announced that it will be ending its longtime partnership with producer Jerry Bruckheimer, of Pirates of the Caribbean fame, by not renewing a "first-look" contract in 2014. Disney maintains that the decision was not due to the poor box office performance of The Lone Ranger, and "will continue to focus on its branded properties including Disney, Pixar, Marvel and now Lucasfilm, while Bruckheimer is looking to produce more mature films outside the scope of the Disney brand," The Hollywood Reporter says.

Sony Corp. (NYSE:SNE): Though Third Point Capital's Daniel Loeb didn't get exactly what he wanted when Sony refused to spin off its entertainment division, it seems he touched a nerve in the process. Sony CEO Kazuo Hirai said Loeb's campaign was actually beneficial for the company, and while he maintained that Sony is better off holding on to all of its movie and music businesses, "Dan Loeb and Third Point shed a light on the entertainment properties that we've been trying to shed a light on for the longest time." Hirai added, "profit margins at the entertainment arm should be higher, and Sony Pictures should refine its process for approving movies," according to The Wall Street Journal.

NextEra Energy Inc. (NYSE:NEE): NextEra has agreed to sell $500 million of equity units to Citigroup, Morgan Stanley and Credit Suisse, and will put the net proceeds from the sale – expected to fall around $484 million – into the general funds of NextEra Energy Capital Holdings.

Staples Inc. (NASDAQ:SPLS): Staples's European unit has launched a new website, which it claims will ease the process of ordering office supplies for small businesses. Though Staples's brick-and-mortar operations have seen closings, the company points out that it is the No. 2 online retailer in the world.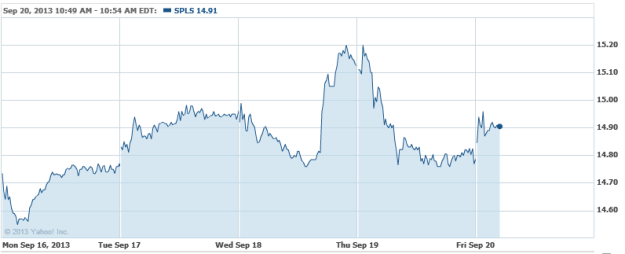 Don't Miss: Here's Who's Really Getting Bruised By Higher Interest Rates.