Bernanke's Policy Report: Where Are We, and Where Are We Going?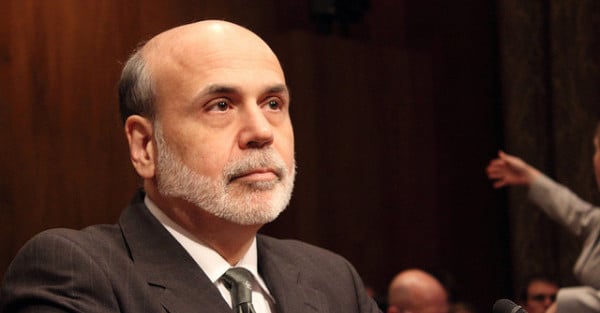 Twice a year — usually in February and July — the U.S. Federal Reserve is required to submit a monetary policy report to Congress. Alongside the report, the chairman of the Fed testifies before the House Financial Services Committee and the Senate Committee on Banking, Housing, and Urban Affairs, and makes himself available for questioning.
At a glance, Chairman Ben Bernanke's testimony and the accompanying monetary policy report are an opportunity for both Congress and the public to update their understanding of current Fed thinking. Zero-bound and unconventional monetary policy has dominated the post-crisis economy and has been simultaneously credited with fueling the recovery and contributing to the buildup of bad mojo over the past few years.
Initial market reaction to Bernanke's testimony before the House on Wednesday was positive, as the chairman articulated a dynamic and accommodative monetary policy aimed at servicing the Fed's dual mandate of maximum employment and price stability. Bernanke's testimony and the monetary policy review highlighted where we are on these two metrics, and where we're going.
Bernanke's vision of the current economic condition in the United States may best be described as cautiously optimistic. "The economic recovery has continued at a moderate pace in recent quarters," he said at his testimony, "despite the strong headwinds created by federal fiscal policy." This sort of fuzzy rhetoric — where pro-growth statements are qualified with a "despite" or "but" clause — are liberally sprinkled throughout Fed commentary on the economy.
Speaking earlier in July, New York Fed President William Dudley commented that despite the fact that job loss rates have fallen, the labor market can not be seen as healthy. "Numerous indicators, including the behavior of labor compensation and household assessments of labor market conditions, are all consistent with the view that there remains a great deal of slack in the economy…Although the unemployment rate has declined by 2.5 percentage points from its peak of 10 percent in October of 2009, much of this decline is due to the fact that the labor force participation rate has fallen by 1.5 percentage points over this period."
In its Mid-Session Review of the economy, the White House Office of Management and Budget provided updated projections of the unemployment rate by White House economists as well as the Congressional Budget Office. Optimistically, the U.S. is looking at 6.5 percent headline unemployment by 2015.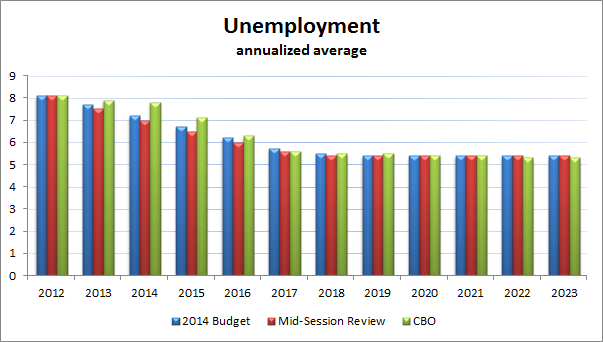 Projections collected by Federal Reserve Board members and Federal Reserve Bank presidents in June put unemployment between 6.5 and 6.8 percent in 2014 and between 5.8 and 6.2 percent in 2014. "The unemployment rate stood at 7.6 percent in June, about a half percentage point lower than in the months before the Federal Open Market Committee initiated its current asset purchase program in September," Bernanke said in his testimony.
"Nonfarm payroll employment has increased by an average of about 200,000 jobs per month so far this year," he continued. "Despite these gains, the jobs situation is far from satisfactory, as the unemployment rate remains well above its longer-run normal level, and rates of underemployment and long-term unemployment are still much too high."

Headline unemployment offers one broad way to measure the health of the labor market, but is by itself incomplete. While the monetary policy report points out that conditions continue to improve, increases in labor compensation have been slow and measures of labor underutilization remain above pre-recession levels.
"Moreover," the report states, "unemployment has been unusually concentrated among the long-term unemployed; in June, the fraction of the unemployed who had been out of work for more than six months remained greater than one-third…In addition, last month, 8 million people, or 5 percent of the workforce, were working part time because they were unable to find full-time work due to economic conditions."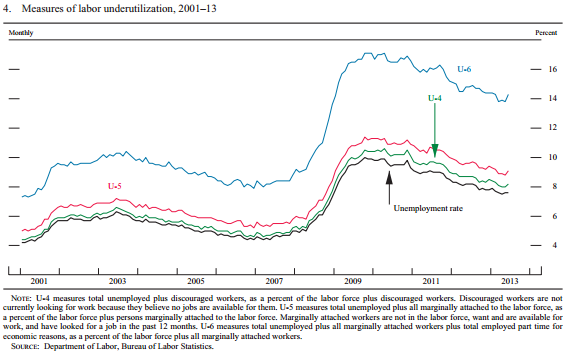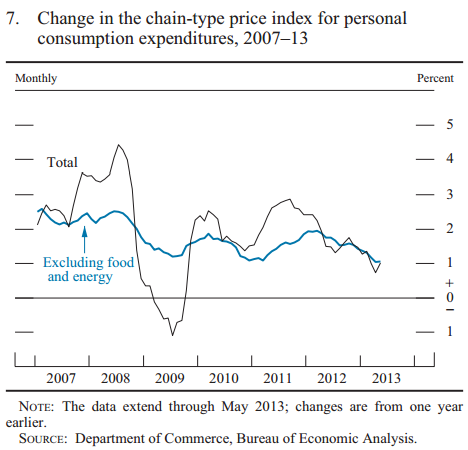 Moving on to price stability, the monetary policy report points out that "consumer price inflation has been especially low." This has been a reality for several months — in his last testimony before Congress, Bernanke warned of "incipient deflationary pressures" and argued that accomodative monetary policy has kept inflation from falling even further below the Joint Economic Committee's long-run target of 2 percent.
The personal consumption expenditures index increased at an annual rate of just 0.5 percent over the first five months of 2013, down from about 1.5 percent in 2012. "The very low rate of inflation so far this year partly reflects declines in consumer energy prices," the report says, "but price inflation for other consumer goods and services has also been subdued."
Consumer prices excluding food and energy — food prices have remained largely unchanged, according to the index — have increased at an annual rate of about 1 percent over the first five months. Projections from Federal Reserve Board members and Fed Reserve Bank presidents put 2015 PCE inflation in a range between 1.4 and 2 percent, with long-term projections at 2 percent.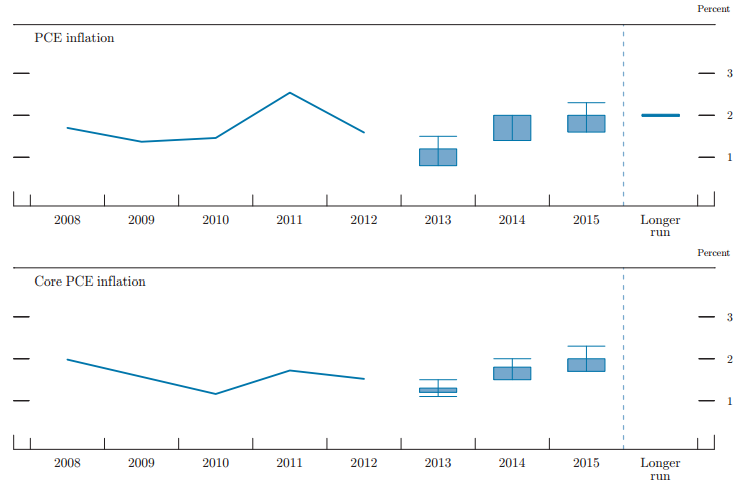 The monetary policy report covers much more than just the state and outlook for unemployment and inflation, but these are the two key factors that affect Fed thinking on on setting interest rates and determining the flow rate of asset purchases, which is where the market's attention seems to be focused.
The Fed's current target range for the federal funds rate is in a range between 0 and 0.25 percent. This target is expected to remain appropriate as long as headline unemployment remains above 6.5 percent and inflation expectations one to two years out do not exceed 2.5 percent. It's important to emphasize that these are thresholds, not triggers.
As Bernanke explained in his May testimony: "Depending on economic circumstances at the time, the Committee may judge that it is not appropriate to begin raising its target for the federal funds rate as soon as one or both of the thresholds is reached. The 6 1/2 percent threshold for the unemployment rate should not be interpreted as the Committee's longer-term objective for unemployment; because monetary policy affects the economy with a lag, the first increase in the target for the funds rate will likely have to occur when the unemployment rate is still above its longer-run normal level."
With regard to its policy of large-scale asset purchases, the Fed expects to taper purchases gradually and in response to incoming economic and market information. Once again, it's important to emphasize that the policy is "in no way predetermined."
If current projections hold true, the Fed could begin tapering purchases as early as this year. If conditions improve more quickly than expected, purchases could be tapered more quickly — and if conditions improve more slowly than expected, tapering won't begin until later. The federal funds rate is expected to remain at the zero bound after purchases end.
Following its June meeting, the Fed published some expectations for the appropriate tightening of policy.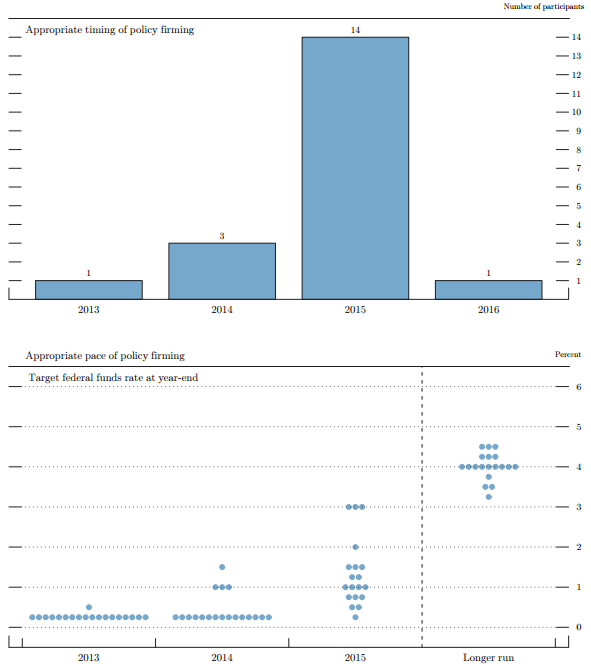 Don't Miss: Is the Housing Recovery Theme Getting Demolished?