Bernanke's Testimony and Market Uncertainty: Week in Review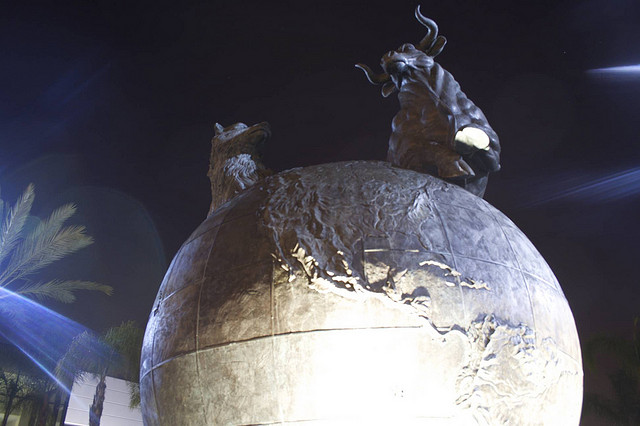 By Friday afternoon, Wall Street was queuing up to end the week on a red note. Central bank stimulus has taken center stage in Mr. Market's mind, and speculation about the future flow rate of purchases and whether or not markets are inflated has dominated the conversation this week. The million dollar question is: how long will QE last? (Read more.)
Bernanke's Testimony
Federal Reserve Chairman Ben Bernanke testified before the Joint Economic Committee on Wednesday, and reiterated that quantitative easing will remain in lockstep with incoming economic data. The release of the minutes of the previous FOMC meeting helped set the tone of the market for the rest of the week, with several members suggesting that conditions have improved enough to begin tapering purchases as early as this summer.
During his testimony, Bernanke suggested that the Fed has done a good job stimulating the economy in the short run, but that fiscal policy — largely controlled by Congress — has failed to do enough to bolster long-term growth… (Read more.)
The Ongoing IRS Scandal
Lois Lerner, head of the Internal Revenue Service's tax-exempt division, has invoked her Fifth Amendment rights as hearings begin on the IRS controversy. Having been head of the tax-exempt division at a time when they were improperly targeting conservative groups, Lerner told the House Committee on Oversight and Government Reform, "I have not done anything wrong. I have not broken any laws. I have not violated any IRS regulations. And I have not provided false information to this or any other committee." She then declined to answer the committee's questions, on advice of counsel… (Read more.)
The Housing Market
The Fed-induced recovery in the real estate market continues to boost some areas of the economy, as new single-family home sales in the United States rose more than expected in April. On Thursday, the Commerce Department reported that purchases of new homes, measured by contracts signed, increased 2.3 percent to a seasonally adjusted 454,000-unit annual pace last month, compared to the revised March rate of 444,000 units. This is the second best level since July 2008. Home sales are up 29.0 percent compared to April 2012… (Read more.)
Home prices increased 1.9 percent in the first quarter of 2013, according to the latest Federal Housing Finance Agency report. This is the seventh consecutive quarterly rise in the purchase-only, seasonally-adjusted index, and indicates strong upward momentum for U.S. house prices. Home prices were up 7.2 percent on the year… (Read more.)
Here's your Cheat Sheet to this week's top stock stories:
Dodging the Tax Man: Over the past few months, Apple (NASDAQ:AAPL) has begun to lose its grip on its reputation as a company that could do no wrong. This week, CEO Tim Cook spoke before the Senate Permanent Subcommittee on Investigations about corporate taxes, and whether or not his company has been obscuring its actual tax rate behind a web of offshore profit shifting… (Read more.)
Has Debt-Free Tesla Made Obama a Winner at Last? The recent successes of certain automakers have afforded Barack Obama #winning status. During the 2012 U.S. Presidential election, Republican challenger Mitt Romney attacked Obama for his $49.5 billion bailout as well as his position on offering aid to electric car companies and their suppliers. However, recent news from General Motors (NYSE:GM) and Tesla Motors (NASDAQ:TSLA) may have Romney biting his tongue… (Read more.)
Is Ronald McDonald Making American Kids Obese? Ronald McDonald hasn't had an easy go of it recently, but McDonald's (NYSE:MCD) chief executive Don Thompson is trying to help the company mascot catch a break. At the company's annual shareholder meeting on Thursday, Thompson defended McDonald's marketing strategy, and contended, "We are not the cause of obesity. Ronald is not a bad guy." (Read more.)
Johnson & Johnson Is Going Big With New Meds: The world's biggest maker of healthcare products, Johnson & Johnson (NYSE:JNJ) is ready to prove itself again. With its status as the fastest growing pharmaceutical business in 2012, it doesn't come as a surprise that the drugmaker has big plans for the near future. It is not only poised to submit more than 10 new product filings by 2017, but it also plans to improve and extend more than 25 current brand lines in that same time period… (Read more.)
Why Yahoo's Bid for Tumblr is Genius: The Marissa Mayer era at Yahoo (NASDAQ:YHOO) has been a windfall for investors. The stock is up 68 percent since Mayer took over as CEO and began remaking Yahoo in her — meaning, Google's (NASDAQ:GOOG) — image. Now, the next-gen executive is aggressively addressing some easier wins with a brilliant move to prospectively acquire David Karp's Tumblr… (Read more.)
This Gun Maker Should Send President Obama a Thank You Note: The nation's second largest publicly-traded gun manufacturer may need to send a thank you note to President Obama. For the 25th consecutive year, The Boston Globe unveiled its Globe 100 list on Sunday, ranking the best-performing public companies in Massachusetts. The Springfield-based Smith & Wesson (NASDAQ:SWHC) topped the list for the first time in history… (Read more.)
Other Economic News
The slowdown in U.S. manufacturing continued in May, according to Markit's Flash U.S. Manufacturing PMI report. The purchasing managers index registered 51.9, its lowest reading since October, and the second consecutive month of slowing growth. However, this reading was still better than expectations. At a glance, it appears that U.S. manufacturing is standing upright, although still heavily supported by policy… (Read more.)
Don't Miss: AAII Sentiment Survey: Pessimism Reaches Its Lowest in One Year.