Bernie Madoff Haunts JPMorgan from Behind Bars
Legal issues don't just rain down on JPMorgan Chase & Co. (NYSE: JPM), they pour. The New York Times reports that federal authorities are looking at the bank's involvement in the Bernie Madoff case. Speaking with people familiar with the matter, the publication says that ahead of a potential criminal investigation, Jamie Dimon and prosecutors have discussed a "deferred prosecution agreement" and that federal authorities have not ruled out a more severe sentencing.
The investigation would be to resolve whether or not JPMorgan disregarded evidence of the Madoff Ponzi scheme. The bank has been sued for similar reasons by Irving H. Picard. Picard filed the suit on behalf of Madoff's victims.
Bernie Madoff is one of the most infamous white-collar criminals in modern history. Formerly a non-executive chairman of the NASDAQ exchange, Madoff is currently serving a 150-year sentence for operating the largest Ponzi scheme in history. In 2009, he pleaded guilty to 11 accounts felony financial fraud. All told, the amount missing from client accounts, including fabricated gains, was nearly $65 billion, with actual losses to investors of about $18 billion.
According to Picard's suit (Docket Nos. 11–5044, 11–5051, 11–5175, 11–5207), there are several reasons JPMorgan was aware of suspicious activity by Madoff. The case was ultimately tossed out of the second circuit, but because the lawsuit follows claims and evidence likely to be investigated if the FBI case, it deserves attention. Picard is also appealing to the Supreme Court.
First, Madoff had used JPMorgan as a bank for twenty years. The "703 account" Madoff held with the bank was a retail account, through which billions of dollars flowed. This included wire transfers for millions of dollars that had no business ties. Madoff opened the account in 1986, and the suit calculates JPMorgan collected fees totaling half a billion dollars.
Due to the amount of money flowing through the account, and the access to financials JPMorgan had during the account's long history, Picard alleges that "JPMorgan was 'at the very center' of Madoff's fraud and was 'thoroughly complicit' in it." The suit cites two events in particular that display JPMorgan employees had concerns regarding the Madoff account.
The lawsuit says that JPMorgan was aware of irregular activity, but chose to continue collecting fees rather than report Madoff to federal authorities, giving two specific examples.
An email (contained here in documents from the lawsuit published by the New York Times) from 2006 by a JPMorgan employee asks for "clarification as to how the fund made money during times of market distress." Other emails that surfaced in the suit are likely to be brought up in an F.B.I. investigation.
Again, bells should have gone off in June 2007, Picard believes, because "JPMorgan's Chief Risk Officer John Hogan learned at a lunch with JPMorgan money manager Matt Zames that 'there is a well-known cloud over the head of Madoff and that his returns are speculated to be part of a [P]onzi scheme.'"
JPMorgan, the New York Times reports, has maintained the stance that regarding the Madoff affair, "all personnel acted in good faith." The bank denies the allegations in the Picard suit. A spokeswoman wrote to CNNMoney that "[c]ontrary to the trustee's allegations, JPMorgan did not know about or in any way become a party to the fraud orchestrated by Bernard Madoff."
If the F.B.I. does commence a criminal investigation, it will be the latest in a slew of legal battles for JPMorgan, which include a tentative $13 million deal with the U.S. Department of Justice to end an investigation into the bank's mortgage practices. Throughout its recent legal drama, the company's stock has remained well above its 52-week low of $38.83 per share in November 2012.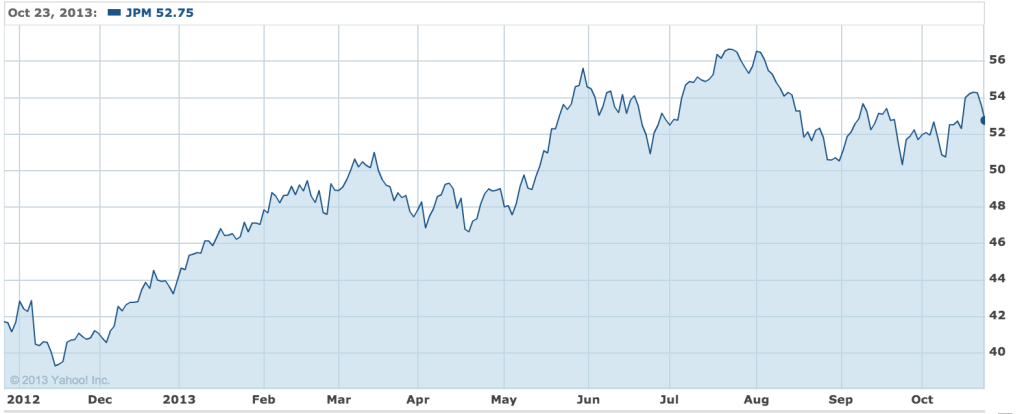 Don't Miss: Berkshire's Holdings House Real Estate Recovery Clues.