Best Buy Partners With Samsung and 2 Stocks at 52-Week Highs on Friday
AMC Network (NASDAQ:AMCX): Closing price $63.24
The highly-awaited 6th season of Mad Men returns to AMC on Sunday night in a two-hour debut show. Mad men gets rave reviews, and it has a cultural impact far larger than its viewership, as only 3.5 million viewers tuned in to the season five premiere. Best of all, the show has  swept the Emmy Awards over and over, and it has enticed an incredible amount of press coverage. Shares closed up 1.12 percent on Friday at $63.24, and have been traded in a 52-week range of $34.78 to $63.33.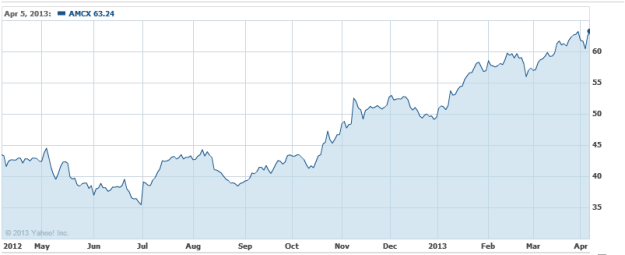 Best Buy Co. (NYSE:BBY): Closing price $25.45
On Thursday, Best Buy stock soared 16 percent on news that Samsung would open its "Samsung Experience Shops" in over 1,400 Best Buy stores during the next few months. The first 500 shops will start opening as soon as Monday, says Bloomberg. The first of them will use roughly 460 square feet of prime space close to the front of the Best Buy stores and will feature "Samsung Experience Consultants," who will be hired and trained by Samsung to help customers who are interested in Samsung devices. Shares closed up 1.27 percent on the day at $25.45, having been traded between $11.20 and $25.46.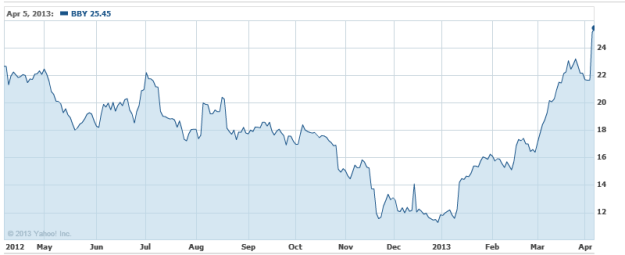 First American Financial Corporation (NYSE:FAF): Closing price $26.40
The title insurer reported that its current Executive Vice President and Chief Financial Officer Max O. Valdes will step down sometime in 2014, perhaps exiting at a good time, with the firm's share price having soared by 54 percent over the past year. Beyond that, the stock also outperformed the S&P 500 by a factor of almost five. Valdes will be replaced by the newly promoted Senior Vice President of Finance Mark E. Seaton, who is a seven-year veteran. Details on Seaton's compensation have not thus far been filed with the Securities and Exchange Commission. Shares closed up 3.45 percent on the day at $26.40 and have been traded in a 52-week range of $15.17 to $26.41.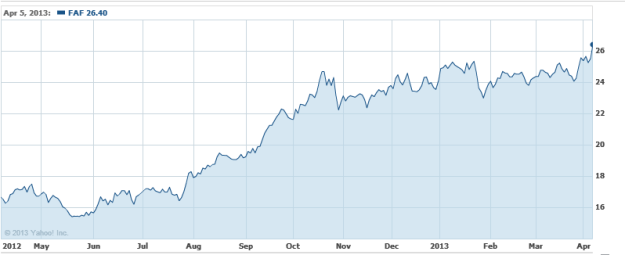 Don't Miss: Here's What Mark Zuckerberg's Tax Bill Looks Like.