Best Buy Severs Relationship With Cap One and 3 Hot Stocks Trading Today
Google Inc. (NASDAQ:GOOG): Current Price: $801.52
EU privacy regulators proposed a coordinated crackdown before summer on Google's privacy practices, escalating European efforts to reshape the manner in which global companies treat user data, according to the Wall Street Journal. France's privacy watchdog has stated that it and an unspecified number of other European regulators hope to coordinate a "repressive action" against Google, following the company's failure to give "precise and effective" answers to a warning that all 27 EU national regulators issued during October. They are to vote on the proposal at the end of the month.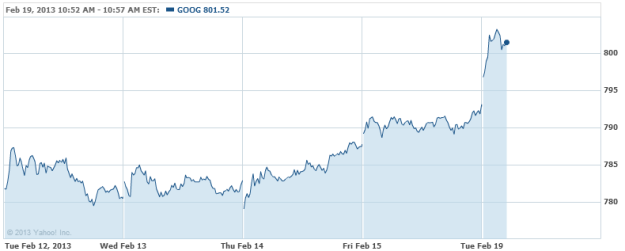 Best Buy Co. Inc. (NYSE:BBY): Current Price: $17.44
According to Capital One (NYSE:COF), it has reached an agreement to sell the portfolio of Best Buy  private label and co-branded credit card accounts, with current loan balances of approximately $7 billion, to Citi (NYSE:C). Furthermore, Capital One and Best Buy agreed to end their contractual credit card relationship early. The sale of the loans to Citi, subject to customary closing conditions, and early termination of the Best Buy partnership will likely be finalized during Q3 of 2013. Capital One believes that the proceeds from the sale will approximate the book value of the accounts, causing no significant gain or loss on the transaction.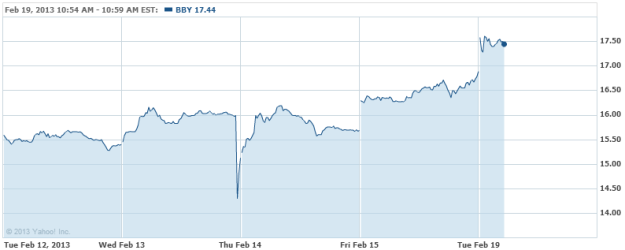 Express Scripts Inc. (NASDAQ:ESRX): Current Price: $57.18
The company believes that its FY13 cash flow from operations total $4.5 billion to $5 billion and it claims that it is moving forward with more bond repurchases this year. These comments were made on the Q4 earnings conference call.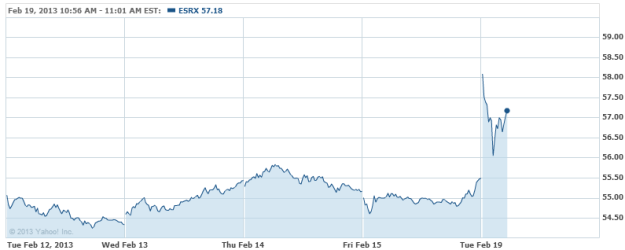 Novogen Limited (NASDAQ:NVGN): Current Price: $5.37
The company's shares trading in Australia saw an increase surpassing 300 percent after new data revealed that a drug it is developing has proved highly effective at ceasing the growth of ovarian cancer stem cells, Proactive Investors Australia reports. Novogen shares listed in New York have seen a rise of more than 120 percent to $4.69 in early trade.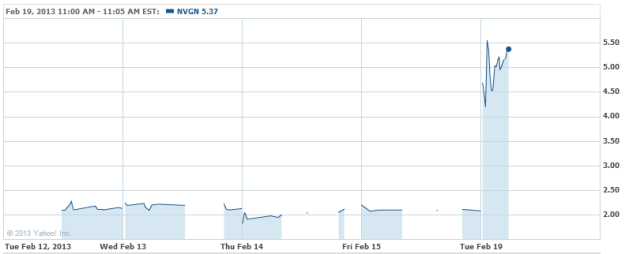 Investing Insights: Is DirecTV Still a Winner?