Best Buy Surges on European Exit News and 2 Other Hot Stocks To Watch
Best Buy Co. (NYSE:BBY): Current price $26.30
Best Buy announces that it will divest its 50 percent interest in its Best Buy Europe joint venture to its partner Carphone Warehouse Group in a cash-for-stock transaction valued at around $775 million. In reaction, shares jumped almost 8 percent in early morning trading. The sale would enable Best Buy to simplify its business, grow its return on invested capital, and strengthen its balance sheet as well, according to Chief Executive Hubert Joly in a statement, which also said that Best Buy's sale of its European operations should not imply any similar efforts in its other international businesses.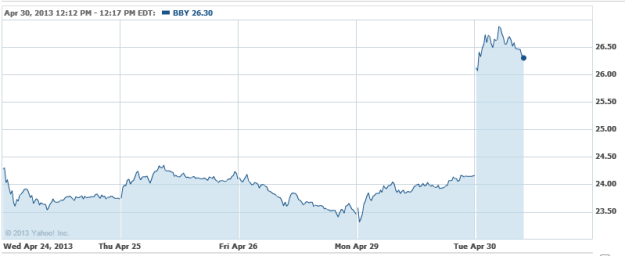 Facebook (NASDAQ:FB): Current price $27.23
Just before the posting of Facebook's earnings on Wednesday, we have a fresh controversy concerning the firm's users . This week, The Guardian  in London published a story having the headline, Facebook Loses Millions of Users as Biggest Markets Peak. The story used data from the social media analytics firm Socialbakers. According to The Guardian, Facebook lost 6 million United States visitors in March, and another 1.4 million in the United kingdom. However, hours later the Socialbakers Chief Executive Jan Rezab blogged that the report was "wrong" and had misinterpreted the firm's data, remarking that "Sometimes, journalists get stats wrong. The Facebook stats found on our page are not primarily intended for journalists, but rather ad estimates for marketers."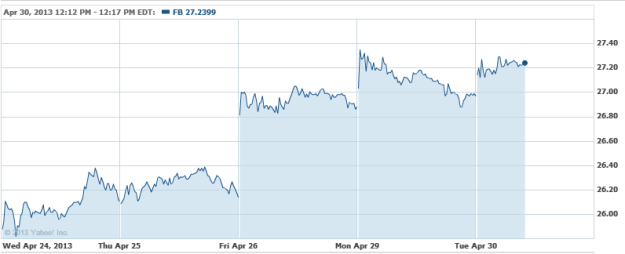 MGIC Investment Corp. (NYSE:MTG): Current price $5.34
The mortgage insurer's shares slumped in New York trading while its first-quarter loss widened. The stocks fell by 8 percent to $5.04 at 9:45 a.m. The net loss soared to $72.9 million, or 31 cents a share, from $19.6 million, or 10 cents, year-over-year when investment gains helped assuage claims costs resulting from backing home loans, according to MGIC in a Tuesday statement. This marked the firm's eleventh consecutive unprofitable period.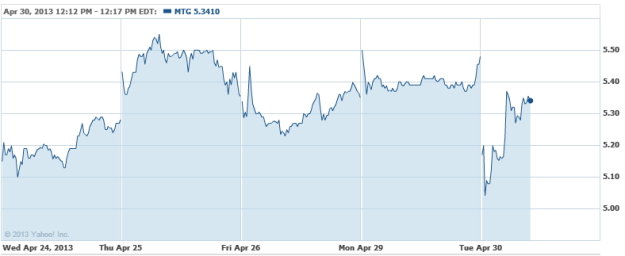 Don't Miss: Can Siri Take on Google Now on Her Home Turf?