Best Buy: WORST Week Ever?
Best Buy (NYSE:BBY) is having one of its worst weeks ever. Shares of the electronics retailer closed 10 percent lower yesterday and took another plunge today after reporting its latest quarterly financial results.
The Minnesota-based company started the week on a low note amid appointing Carlson executive Hubert Joly as the new chief executive. Founder Richard Schulze also turned down an offer from the board to conduct due diligence after offering to take Best Buy private. "I still hope to work with the board on a mutually beneficial transaction — but you should know that I am not going away," Schulze wrote in a letter to the board. Schulze's plan to take the company private provided a brief pop in shares earlier this month, but the gain has been completely erased over the past two weeks.
On Tuesday, Best Buy reported weaker-than-expected earnings for the second quarter. Net income plummeted 91 percent to $12 million (4 cents per share), compared to $128 million (34 cents per share) a year earlier. Excluding items and restructuring charges, the company earned 20 cents per share, falling well below estimates of 31 cents per share. Furthermore, Best Buy experienced its eighth decline in same-store sales in the last nine quarters.
Don't Miss: Another Major Investor SELLS Facebook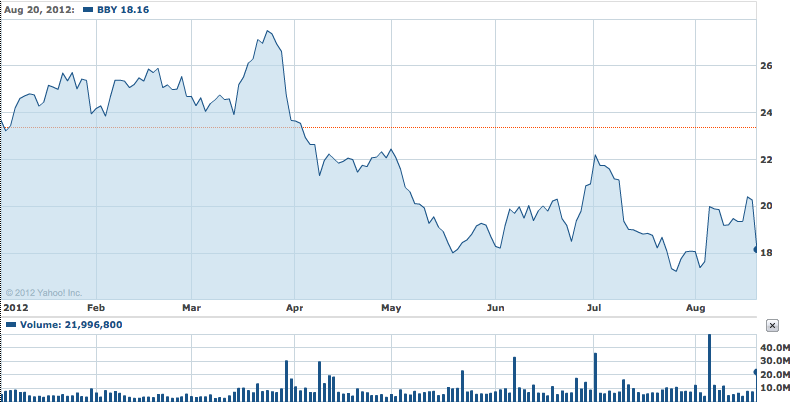 While it may be easy to get caught up in popular Internet disasters such as Facebook (NASDAQ:FB), Zynga (NASDAQ:ZNGA) or Groupon (NASDAQ:GRPN), shares of Best Buy have also nose-dived. As the chart above shows, despite climbing to $45 in 2010, shares have broken down to under $20. Best Buy has declined 26 percent year-to-date, and more than 60 percent over the past five years. After the earnings announcement, shares fell as much as 10 percent to hit $16.25, representing their lowest level in nine years.
Going forward, Best Buy gave little hope for investors. The company announced it will not forecast profit for the second half of the fiscal year and also decided to suspend its share buyback program for the year. In a statement, the company explained, "Based on the normal seasonality of the business, the majority of the company's annual earnings occur in the second half of the year. Due to lowered expectations for industry wide sales and the uncertainty associated with several key product launches expected in the second half of fiscal 2013, the company has reduced its annual earnings expectations. In addition, the company has just announced a new CEO who will start in early September. Given these factors, the company does not intend to further provide or update earnings guidance for fiscal 2013."
The next technology name that has the potential to take another downturn after earnings like Best Buy appears to be Dell (NASDAQ:DELL). Shares of the PC maker have declined 14 percent year-to-date, and nearly 55 percent over the past five years. The company is expected to report its quarterly financial results today. In May, shares of Dell plunged 17 percent in a single trading day after weaker-than-expected first fiscal quarter earnings.
Investor Insight: Is Apple's Stock BUBBLICIOUS?