Best Buy's New Ad Campign Needs More In-Store Oomph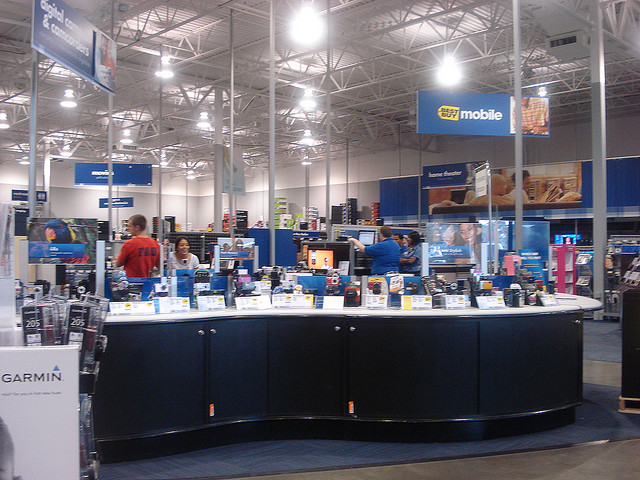 Best Buy's new advertising strategy, which embraces the idea of "showrooming," could still be better, according to new research by social media experts, AdAge reports. "Showrooming," is a strategy used by savvy consumers to examine a product they are interested in buying at a brick-and-mortar store, before searching for lower prices for the same item online and then purchasing that item over the internet, often from another retailer that boasts a lower price.
This fall Best Buy released a swath of  holiday-season ads featuring celebrities like Will Arnett, Maya Rudolph, Jason Schwartzman, and LL Cool J that showcase showrooming in action, but then picture its characters buying online from Best Buy at the advertisement's conclusion. The ads emphasize the retailers' "low price guarantee" and it's handy "in-store pick-up" option that allows users the convenience of ordering online, but picking up at their local store.
But while the creative new campaign appealed to consumers and helped get more foot traffic in store, it didn't do as much as it could have to get customers to actually buy products from Best Buy over other competitors, namely Amazon, according to a social media analytics company Crimson Hexagon, which is not affiliated with either Amazon or Best Buy.
According to Jehan Hamedi, the global market development manager at Crimson Hexagon, 10 percent of the consumers it surveyed said the showrooming process usually benefits Amazon the most. "Best Buy is where they [the consumers] go to look at merchandise and then they go buy it online later. What consumers are not shy about telling us is why they showroom, when they do it, and the connection to a named competitor, and that's Amazon," Hamedi added in an interview with AdAge.
Crimson Hexagon suggests, per AdAge, that Best Buy capitalize on the fact that it's stores are brick-and-morter and act as a kind of "playground destination," for consumers by providing it's customers with more perks and more fun in return for shopping in-store. In-store events, group discounts, and refer-a-friend programs all appear on Crimson Hexagon's list of suggestions. In other words, Hamedi says, Best Buy needs to make shopping at their stores, a "social experience."
Best Buy is currently in the midst of its new, "Renew Blue" strategy which seeks to address the company's flat to down full-year revenues, as well as net losses in the past few years. One of the many aspects of the "Renew Blue" plan addresses this "social experience," Hamedi comments on and identifies a need to put spark and life back into the Best Buy consumer experience.
Best Buy is expected to earn $1.61 a share for the fourth-quarter, a number that is comparable to the $1.55 a share amount the company experienced a year ago, AdAge reported via Yahoo Finance.
More From Wall Street Cheat Sheet: