Best Buy's New Pricing Strategy Should Have Online Retailers Shaking in Their Boots
Best Buy Co. (NYSE:BBY) appears to be saying and doing two different things. While the electronics retailer continues to squash notions that customer "showrooming" has become a serious problem, the company's recent actions seem to suggest just the opposite.
Best Buy has hatched plans to lower its in-store prices for the holiday season to rival those of online retail competitors like Amazon.com (NASDAQ:AMZN). On its surface at least, the move would suggest that Best Buy is indeed concerned about the growing prevalence of showrooming, or comparison shopping, which involves customers going into stores only to browse for products they will ultimately go home and purchase online at a lower price.
Catalysts are critical to discovering winning stocks. Check out our newest CHEAT SHEET stock picks now.
Best Buy appears determined to combat such practices and maximize the percentage of customers who walk out of its stores having made a purchase. The Internet-matched prices will certainly help, as will Best Buy's efforts to provide customers with free home delivery on out-of-stock items. Right now, that percentage of shoppers who actually buy something in the store is only 40 percent.
Still, the company's leadership maintains that while comparison shopping is a reality, it shouldn't warrant too much panic. Vice President of Consumer Insights Bill Hoffman says, "We need to pay attention to it. But it is still very low."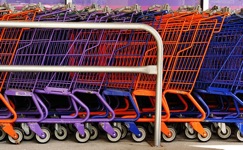 Other retailers have taken different stances on the problem of showrooming. Wal-Mart (NYSE:WMT) has actually embraced the phenomenon: "Let's be the best showroom," Chief Executive Mike Duke said earlier this week, "let's be the best place where customers want to go and get the experience."
However, that's not to say Wal-Mart isn't also taking steps to secure holiday sales from threatening Internet competition. The retail giant is testing a same-day delivery service that it hopes will leverage its extensive store base to deliver purchases to customers who just can't wait one more day.
The consensus amongst conventional retailers appears to be that while smartphones and other mobile devices have made showrooming easier, the practice is a longstanding one and nothing that stores haven't had to deal with before. Research by retail consultancy Alix Partners showed that over a 12-month period, 33 percent of consumers who were surveyed admitted to buying something online after first testing it in a store. However, the data suggested that only a fraction of those respondents actually used a smartphone to compare prices while inside a retail store.
Don't Miss: Your Inflation Report: Here's Why Markets Are Up on Friday.