Best Buy's Samsung Kiosks and 2 Stocks at 52-Week Highs
Best Buy Co. (NYSE:BBY): Closing price $25.13
Shares popped on Thursday on word that the retailer wants to create store-within-store kiosks for Samsung products, representing a vote of confidence from a major consumer electronics store that the brick-and-mortar format remains an important venue through which sell products, said the Associated Press. Recently, Best Buy has suffered the "showrooming" effect as increasing numbers of shoppers browse in stores and then buy the items cheaper online, which has led to fears that the big-box store format is becoming obsolete. But this company has aggressively fought back under new turnaround expert Chief executive Hubert Joly, who debuted an online price-matching policy, allowing employees extra training while lowering costs and revamping stores. Shares closed up 16.07 percent on the day at $25.13, having been traded in a 52-week range between $11.20 and 25.30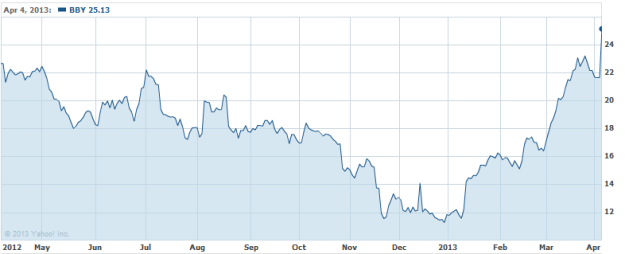 AbbVie (NYSE:ABBV): Closing price $41.60
Humira comprised half of sales in 2012 and provided an even higher percentage of profits. According to The Motley Fool, it will continue to be a key element of AbbVie's revenue growth; international growth is also worth watching, as it is AbbVie's pipeline. However, Humira should face challenges as it loses patent protection in 2016, so knowing which new drugs the firm will be selling is a very important development. Shares closed up 2.54 percent on Thursday, and have been traded between $33.33 and $41.78 the past 52 weeks.

Macy's (NYSE:M): Closing price $43.56
According to a Wednesday filing, the iconic retailer gave its Chief Executive Terry Lundgren a pay package worth $11.3 million in 2012, down 22 percent from the previous year since he failed to meet all of the firm's financial performance goals. Lundgrenhas served as CEO of Macy's since 2003, which makes him one of the longest-tenured CEOs in the department store industry. In 2012 Macy's paid Lundgren a $1.6 million salary, stock and options awards worth $7.7 million, and cash incentive pay of $1.9 million. Beyond that, he also received other compensation worth roughly $76,000, which covered perks like the use of the company's aircraft. Shares closed up 2.76 percent on Thursday at $43.56, and have been traded in a 52-week range of $32.31 to $43.88.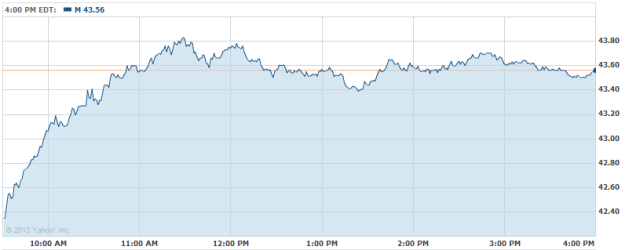 Investing Insights: Are All-Time High Prices Supported By Procter & Gamble?