Best Deals at 5 Retailers Going Big on Black Friday Eve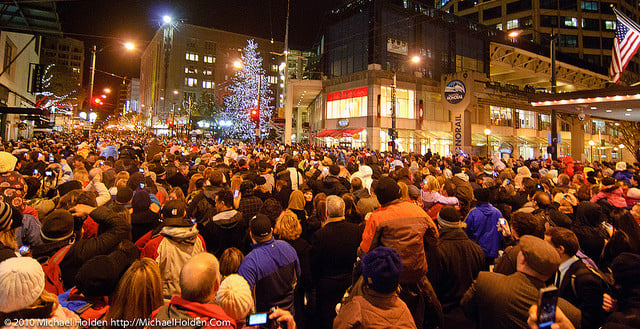 A mere four days away, retailers and consumers are getting armed and ready for the annual shopping Super Bowl that is Black Friday. This year, things get a little confusing because the 12:00 am shopping push has somehow creeped up and made a name for itself on turkey day, but retailers' jaw-dropping deals are still making their annual appearance — people just may need to push their Thanksgiving dinners a little earlier.
For those who plan on opening their wallets on Thanksgiving evening, mapping out a game plan might be consumers' best bet when it comes to securing the best discounts, and we've decided to highlight what we believe are the most attention-worthy deals at a handful of retailers.
Whether you'll be fighting the crowds or watching the mania unfold on television from the comfort of your own home, here's a round-up of deals that Macy's, Wal-Mart, Target, Kmart, and Best Buy will roll out this year on turkey day.
Macy's
We'll first cater to the mall crowd and begin with Macy's. The department store will open at 8:00 pm Thanksgiving day, and offer deals from 8:00 pm Thursday to 1:00 pm Friday, along with 7:00 am to 1:00 pm Saturday. If you manage to make your way to the retailer after your turkey Thanksgiving night, you can get your hands on a number of appliances and clothing items at half the price. The best deals, though? TheBlackFriday.Com says:
1. Tag Fairfield III 50 piece Luggage Set: $49.99
2. Gorham Dinnerware Boulder Creek 40 Piece Set: $99.99
3. Farberware 12 Piece Premium Professional Dishwasher Cookware Set: $59.99
Wal-Mart
Next up, the Black Friday king, Wal-Mart. Rumors have swirled over a national boycott, but just in case you won't be participating and will instead be lining up for the retailer's 6:00 pm opening, here are the deals you should keep your eye out for.
1. HP Pavilion 14-in. Touch Smart Laptop: $278.00
2. LG Blu-ray Player: $38.00
3. Vizio 60-inch Smart LED HDTV: $688.00
Target
Target also has its sights set on high volumes of shoppers visiting its stores Thanksgiving night, and it will open just two hours after Wal-Mart's start time at 8:00 pm The two brick-and-mortar retail giants are gearing up to go head to head with their biggest competitor, Amazon.com, and their Black Friday deals prove just how low they're willing to bring down prices in order to lure consumers into their respective stores. Here are some Target must-sees.
1. Nook 7-Inch 8GB HD Tablet: $79.00
2. iPad Air 16GB Wi-Fi Tablet With $100 Gift Card
3. Fitbit Flex Wireless Wristband With $20 Gift Card
Kmart
As for Kmart, this retailer is opening at 6:00 am Thursday morning and staying open 41 hours straight, so we figured it must have some deals that are worth getting up early for come turkey day. According to its ad it says:
1. 7IN 4GB Android Tablet: $39.99
2. RCA 32" Class LED HDTV: $179.99
3. All Board Games: Buy One, Get One Free
Best Buy
Lastly, Best Buy. Thanksgiving doorbuster deals at the electronics retailer will go live at 6:00 pm Thanksgiving evening, mystery doorbusters will be available at midnight and even more doorbusters begin at 10:00 am Black Friday morning. Here's a sneak peak of what Best Buy has in store.
1. Samsung Galaxy S4 LTE Mobile Phone With 2-Year Service Agreement: Free
2. Apple iPad 2 16GB Wi-Fi Tablet: $299.99
3. Samsung 65IN 1080p 120Hz LED HDTV: $999.99
Don't Miss: Will a Boycott Cast a Dark Cloud Over Wal-Mart's Black Friday?