Best Performing S&P 500 Stocks on Earnings Announcements
Trading earnings announcements can be challenging given the volatility. So, it's important to know which stocks are worth focusing on when you have limited resources to pick your targets.
Below Bespoke Invest shows us the best performing stocks in the S&P 500 (NYSEARCA:SPY) based on their one day return after announcing earnings. This is a great place to start your research for next earnings season which, believe it or not, will be here starting January 11th. These are also stocks which obviously have positive inertia if markets can overcome the Eurozone speed bump.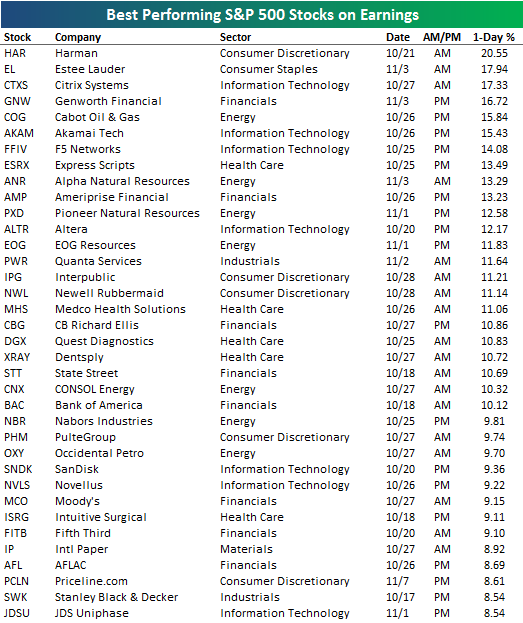 (NYSE:HAR), (NYSE:EL), (NASDAQ:CTXS), (NYSE:GNW), (NYSE:COG), (NASDAQ:AKAM), (NASDAQ:FFIV), (NASDAQ:ESRX), (NYSE:ANR), (NYSE:AMP), (NYSE:PXD), (NASDAQ:ALTR), (NYSE:EOG), (NYSE:PWR), (NYSE:IPG), (NYSE:NWL), (NYSE:MHS), (NYSE:CBG), (NYSE:DGX), (NASDAQ:XRAY), (NYSE:STT), (NYSE:CNX), (NYSE:BAC), (NYSE:NBR), (NYSE:PHM), (NYSE:OXY), (NASDAQ:SNDK), (NASDAQ:NVLS), (NYSE:MCO), (NASDAQ:ISRG), (NASDAQ:FITB), (NYSE:IP), (NYSE:AFL), (NASDAQ:PCLN), (NYSE:SWK), (NASDAQ:JDSU).