Big Banks Under Very Heavy Facebook Fire
Nearly two weeks ago, JPMorgan Chase and Co.'s (NYSE:JPM) CEO, Jamie Dimon, disclosed on a surprise earnings call that the bank experienced a trading loss of at least $2 billion. The announcement served as a reminder that major financial institutions are still risky bets and that investors have more reasons than ever to avoid the banking sector.
Since America's largest bank by assets announced the trading losses, estimates have only increased on just how much JPMorgan may actually lose on the now infamous trade. The WSJ estimates that the $2 billion loss has already grown to $5 billion, while CNNMoney says the loss is closer to the range of $6 billion to $7 billion, according to people working on trading desks that deal in derivatives. Dimon did not release any specific details about the trading losses, but he has called them "sloppy" and "stupid."
Don't Miss: How Strong is Global Gold Demand?
As the chart below shows, it has been a rough month for financials. Shares of JPMorgan, Citigroup Inc. (NYSE:C) and Morgan Stanley (NYSE:MS) have all dropped more than 20 percent since the beginning of May. Meanwhile, Bank of America Corp. (NYSE:BAC) and Goldman Sachs Inc. (NYSE:GS) shares have declined around 15 percent. The month started off weak, but losses clearly intensified after the JPMorgan conference call. Investors may be inclined to consider investing in bank equities after the most recent sell-off, but the 'T= Technicals on the Stock Chart are Strong' variable in our CHEAT SHEET investing framework is not fulfilled. Banks like JPMorgan still look like a falling knife. Furthermore, the extent of JPMorgan's losses will not come into true focus until the bank reports its second-quarter earnings.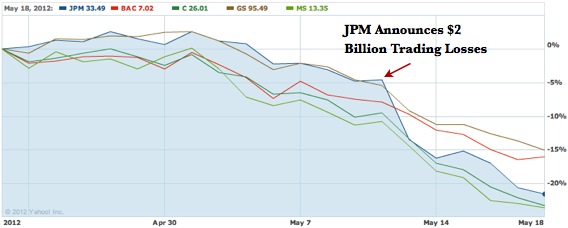 JPMorgan announced on Monday that it will suspend its share repurchase program, just two months after announcing it. The WSJ reports, "Chief Executive James Dimon told investors and analysts at a conference Monday that the New York company stopped the buybacks out of an abundance of caution, saying in reference to money-losing trades that 'we want to box this thing first.' Mr. Dimon recommended the move to the board out of prudence, said a person familiar with the matter, adding that the suspension wasn't driven by a regulatory request." JPMorgan repurchased $9 billion of its stock in 2011 and had plans to purchase as much as another $15 billion in stock over the next year. Dimon said the quarterly dividend will not be cut.
Banks even found a way to disappoint investors on the most highly anticipated initial public offering in years. Facebook (NASDAQ:FB), the social-media giant with 900 million users, made its lackluster debut on the Nasdaq last week. Shares closed only 23 cents higher than its IPO price. On Monday, the company's first full-day of trading on the exchange, Facebook shares closed 11 percent lower. On Tuesday, shares of Facebook opened another 6% lower. Morgan Stanley, the lead underwriter on the Facebook deal, is already coming under heavy fire. "The underwriters completely screwed this up," said Michael Pachter, analyst at Wedbush Securities. The offering "should have been half as big as it was, and it would have closed at $45," he explained.
Investor Insight: Did Apple and Google Poach Facebook's Mojo?