Biogen Banks on Blockbuster Drug and 4 Stocks At 52-Week Highs
Agree Realty Corp. (NYSE:ADC): Closing price $30.10
Agree Realty announced that through their existing lease agreements, Kmart (NASDAQ:SHLD) has exercised its five-year options at Central Michigan Commons in Mt. Pleasant, and Capital Plaza in Frankfort, Kentucky. The Central Michigan Commons store has 80,399 square feet in area and the Capital Plaza store has 80,192 square feet. The extended lease for the Mt. Pleasant store  expires August 31, 2018 and for the Frankfort store on September 30, 2018. Shares closed up 5.24 percent on Thursday and have been traded in a 52-week range of $20.61 to $28.96.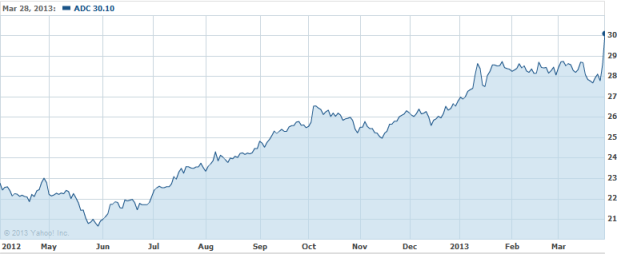 Alliance Data System (NYSE:ADS): Closing price $161.89
Caesars Entertainment (NASDAQ:CZR) will work jointly with Alliance Data Systems'  Retail Services Business to introduce a new Total Rewards credit card, yet another way for the loyalty program's members to earn credit in the loyalty program. In partnership with Caesars, Alliance Data will debut the Total Rewards Visa (NYSE:V) co-brand credit card, permitting cardholders to step up their earnings through Total Rewards program for purchases made at Caesars' resorts, along with all other purchases made with the card outside of Caesars locations. Shares closed up 1.36 perecnt on the day, having been traded in a 52-week range of $119.56 to $160.25.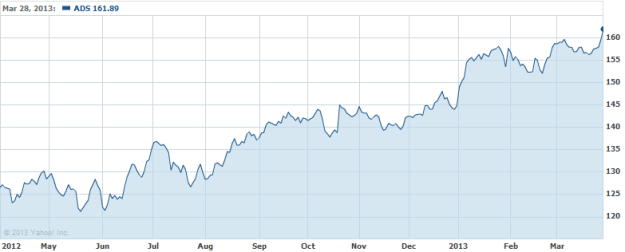 Biogen IDEC (NASDAQ:BIIB): Closing price $192.62
Biogen's oral MS drug Tecfidera, which was approved by the FDA last week, is expected to become a blockbuster, says The New York Times, which added that Tecfidera's efficacy, relative safety and convenience have prompted Wall Street analysts, doctors and patients to forecast that demand for the drug will be very high. Shares closed up 5.44 percent on Thursday at $192.62, and have have traded in a 52-week range of $124.23 to $184.17.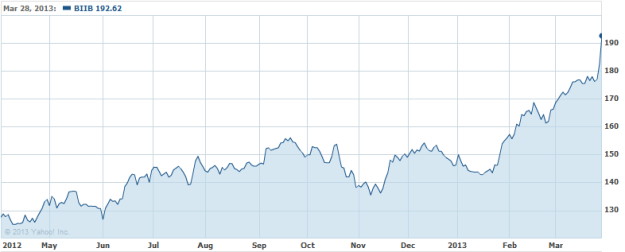 Bryn Mawr Bank Corp. (NASDAQ:BMTC): Closing price $23.28
Bryn Mawr Bank will acquire MidCoast Community Bancorp, and its wholly owned subsidiary MidCoast Community Bank, for roughly $33 million. MidCoast Community Bancorp is headquartered in Wilmington, Delaware. Shares closed down 0.77 percent on the day at $23.28, having been traded in a 52-week range of $19.69 to $23.57.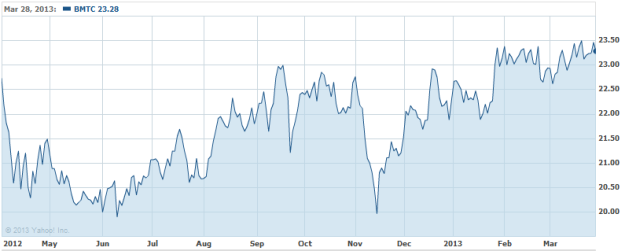 Chicago Bridge & Iron Company (NYSE:CBI): Closing price $62.10
The company estimates its fiscal year 2013 revenue at between $10.7 billion and $11.2 billion, with consensus at $11.48 billion. Also, the firm projects new awards at between $13 bilion and $16  bilion. Adjusted earnings outlook excludes the Shaw-related purchase and transition costs, which are anticipated to be from $80 million to $100 million, with a tax benefit of between $25 million andd$30 million, respectively, lowering GAAP earnings per share by 55 to 70 cents. Shares closed up 5.24 perecnt on Thursday at $62.10, and have been traded in a 52-week range of $32.48 to $58.50.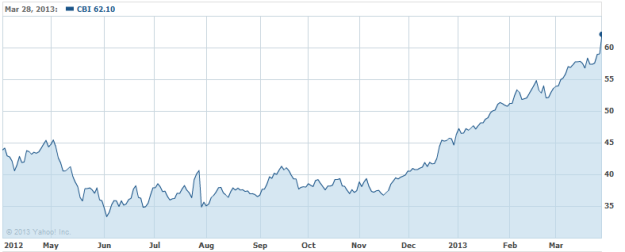 Don't Miss: Fed Balance Sheet: What Does Its Size Mean for Investors?