BioScrip Initiated with Strong Buy and 2 Stocks at 52-Week Highs on Tuesday
Apollo Global Management (NASDAQ:APO): Closing price $26.41
Realogy Holdings Corp. (NASDAQ:RLGY), the real estate brokerage firm backed by Apollo Global Management, slid more than 8 percent after reporting that it plans a secondary stock offering and estimating sales below analysts' forecasts. Realogy will offer 35 million shares held by Apollo, according to a statement released Tuesday after the close of regular trading. Shares closed up 5.26 percent on Tuesday at $26.41, and have been traded between $10.42 and 26.63.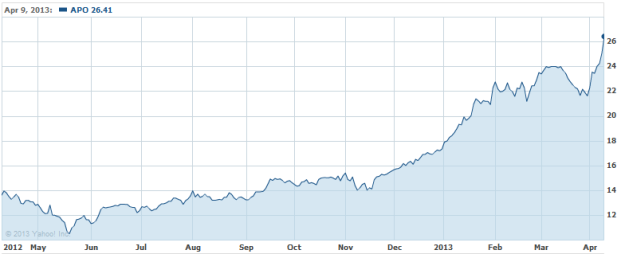 Endocyte (NASDAQ:ECYT): Closing price $13.93
On Tuesday, Endocyte announced that four poster presentations will be presented by its scientists at the 2013 Annual Meeting of the American Association for Cancer Research to be held in Washington, D.C., April 6 through 10. Endocyte is a biopharmaceutical firm developing targeted small molecule drug conjugates and companion imaging diagnostics for personalized therapy in cancer and other serious diseases. Shares closed up 3.65 percent on the day at $13.93, having been traded in a 52-week range of $3.73 to $1418.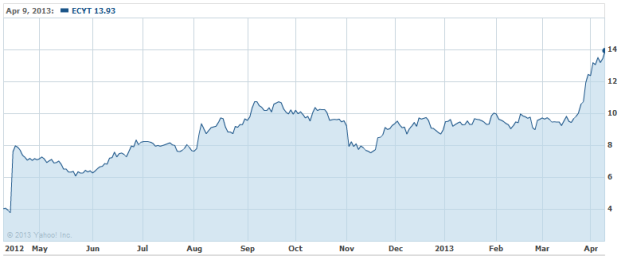 BioScrip (NASDAQ:BIOS): Closing price $13.01
The stock was initiated on Tuesday at Feltl Co. with a Strong Buy. Shares closed up 4.75 percent on the day at $13.01, and have been traded between $6.14 and 13.21 in the past 52 weeks.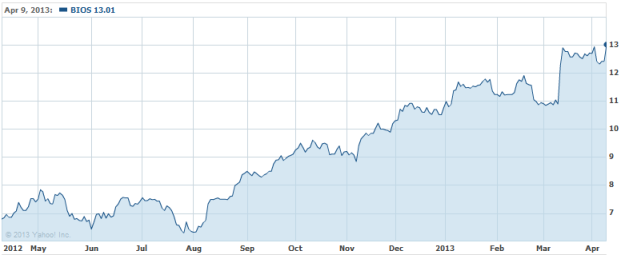 Investing Insights: Will Pfizer Continue This Bullish Run?