Black Friday Sales Were Unimpressive, But Is It Time to Worry?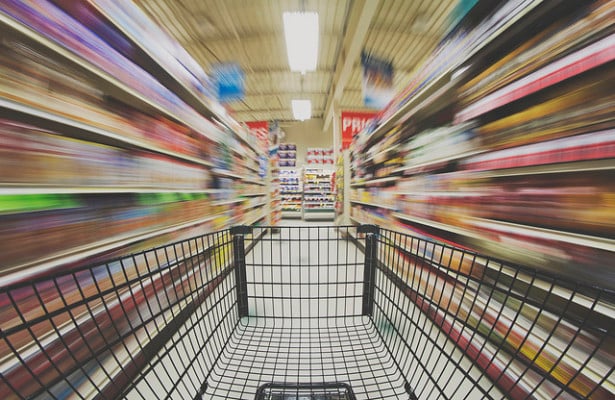 Numbers for the all-important kick off to the holiday shopping season — Black Friday — were disappointing. Purchases made in stores and online between Thursday, November 28, and Sunday, December 1, declined 2.9 percent to $57.4 billion from 2012 levels, and even though 141 million people — 1 million more than in 2012 — shopped between Thursday and Sunday, the average amount spent per person decreased to $407.02 from last year's $423.55. The experts remain divided over what these lower metrics mean for retailers.
Morgan Stanley forecast that holiday same-store sales will increase 1.6 percent in 2013 — down from last year's 3.5 percent increase. Comparatively, consumer research firm ShopperTrak announced Monday that overall sales will increase 2.4 percent, the smallest increase on record since the last recession. Meanwhile, executives at Wal-Mart (NYSE:WMT) and Target (NYSE:TGT) have lowered their yearly forecasts recently, citing slow wage growth, stubbornly high unemployment, and depressed consumer confidence as causes for their concern.
"The retail environment, both in stores and online, remains competitive," Wal-Mart Chief Executive Mike Duke in an audio recording released with the earnings report. "At the same time, some customers feel uncertainty about the economy, government, jobs stability, and their need to take care of their families through the holidays." If the back-to-school shopping season — with its disappointing sales — was any indicator for this holiday season, retailers may have cause for concern. Thanks to the poor results in late August and early September, major retailers, including the bellwether Wal-Mart, saw profit margins shrink.
According to FTI Consulting's senior managing director Steve Coulombe, the problem is not the late date of Thanksgiving. As he told the Christian Science Monitor, the number of days between Thanksgiving and Christmas — the two bookends of the holiday shopping season — has little effect on sales figures, historically. In the past twenty years, there have been six years in which holiday sales increased 6 percent or more from the year before. "There can be between 26 and 32 days between Thanksgiving and Christmas," he explained. "The six years with the most growth had 27 days, 28 days, 29 days, 29 days, 30 days, and 30 days between the two holidays. Years with 31- and 32-day spans had smaller increases."
Coulombe's comments suggest another cause of the lowered holiday sales estimates. National Retail Federation Chief Executive Officer Matthew Shay believes it is related to the still-anemic economy. "There are some economic challenges that many Americans still face," Shay told the New York Times. "So, in general terms, many are intending to be a little bit more conservative with their budgets." However, Bloomberg's Barry Ritholtz cautions America not to take the Thanksgiving weekend numbers too seriously because the figures are not based on any review of actual spending.
"These are figures that random shoppers literally make up on the spot," wrote. "They are made without the benefits of looking at checking accounts balances or credit card statements. History informs us that neither guess is remotely accurate." Boosting his position is the fact that Gallup's self-reported consumer spending estimates from November that showed modest growth for the month. In response to the survey, Americans reported spending an average of $91 per day throughout November, excluding household bills and major purchases like a car or home. That estimate represented a slight increase from October and surpassed figures from prior Novembers, indicating that consumer spending is trending upward.
Measures taken by International Council of Shopping Centers, in conjunction with Goldman Sachs and the Johnson Redbook Index, offer another perspective. Yet, while ICSC-Goldman's same-store sales indicated Black Friday was a flop, Redbook's index suggested the opposite.
Overall, trends for the ICSC-Goldman Sachs report remained relatively flat going into Black Friday. But, on a weekly basis, the index experienced a massive slowdown in the week ended November 30. ICSC-Goldman's same-store sales index plummeted 2.28 percent, week over week, after expanding at a modest 2.6 percent rate in the previous week. However, on a year-over-year basis, the index's growth expanded, increasing at a 2.5 percent rate compared to the previous week's 2.1 percent expansion. Over the past month, the index's weekly comparison and yearly comparison have remained positive, slowing only temporarily at the beginning of the month.
"Consumers have completed an average 37.3 [percent] of their holiday-gift buying, which means there is still a lot left to do over the upcoming weeks, and the early performance typically is no bellwether of the season as a whole," ICSC Chief Economist Michael Niemira said in the press release announcing last week's numbers. Although last week, he commented that, "With more consumers likely to shop during the Thanksgiving week than in the past year, much of the month's performance will be dependent on how business is during Black Friday and over the course of the weekend." As the firm's research showed, retailers efforts to lure in customers — including extending hours and boosting promotions on Thanksgiving Day and Black Friday — increased customer traffic. The problem was consumers remained cautious about spending despite the modest year-over-year increase in the index's weekly reading.
Comparatively, the Johnson Redbook Index showed strengthening same-store sales for the week ended November 30. Growth has been somewhat flat over the past six weeks, but last week's reading showed the index has expanded 4.9 percent over the past 12 months, which compares with the previous week's 3.8 percent rate of growth. But, Redbook's monthly comparison rose just 0.2 percent after increasing 0.5 percent the week before. According to the press release announcing the numbers, a "burst of strength" following the Thanksgiving holiday helped stores improve the monthly average, but that gain was relatively slight.
Stepping back to look at the larger picture, how retailers fare this holiday season depends largely on the health of the consumer. Many shoppers were brought into stores during the Thanksgiving weekend thanks to huge promotions, but that may not necessarily be indicative of strong sales for the remaining shopping week season. Yet, "consumers appear to be willing to spend beyond what the tepid job creation and minimal income growth over the past several quarters would suggest," wrote Sterne Agee economist Lindsey Piegza in a research note acquired by the Los Angeles Times. "Going forward, sustained job creation and bigger income checks are needed to maintain heightened spending patterns, but at least for the moment, short-term optimism may result in more than coal for retailers this holiday season."
Surprisingly, there may be some evidence of the short-term optimism Piegza described. Not only does Gallup's self-reported spending data bode well for the month of November, but the last marker of the health of consumer spending before the holiday shopping season — the Department of Commerce's October retail sales report — gave the retail sector a reason to scale back their panic. Consumers spent more than expected, pushing sales up 0.4 percent last month, far above the 0.1 percent increase expected by economists surveyed by Bloomberg. The department's November sales report is scheduled to be released next Thursday.
Follow Meghan on Twitter @MFoley_WSCS
Don't Miss: Top 10 Metro Areas With Surging Home Prices.