Blackbaud Earnings: Beats Estimates
Blackbaud, Inc. (NASDAQ:BLKB) reported net income above Wall Street's expectations for the first quarter. Blackbaud, Inc. is a global provider of software and related services designed specifically for nonprofit organizations.
Don't Miss: Wall St. Cheat Sheet's newest Feature Trades of the Month!
Blackbaud Earnings Cheat Sheet for the First Quarter
Results: Net income for Blackbaud, Inc. rose to $7.6 million (17 cents/share) vs. $6 million (13 cents/share) in the same quarter a year earlier. A rise of 27.4% from the year earlier quarter.
Revenue: Rose 14.5% to $87.3 million YoY.
Actual vs. Wall St. Expectations: BLKB reported adjusted net income of of 23 cents/share. By that measure, the company beat the mean estimate of 21 cents/share. Estimates ranged from 20 cents per share to 23 cents per share.
Quoting Management: Marc Chardon, Chief Executive Officer of Blackbaud, stated, "The first quarter was a solid start to 2011 as the company's revenue and profit growth accelerated and exceeded the high-end of our guidance. The growing momentum of our business is evidenced by our total revenue returning to double digit growth for the first time in over two years."
Key Stats:
Gross margin shrunk 1.3 percentage points to 58.5%. The contraction appeared to be driven by rising costs as the figure rose 18.3% from the year earlier quarter while revenue rose 14.5%.
The company has now been profitable for the last nine quarters, and for the last five, profit has risen year over year by an average of 14.1%. The quarter with the biggest boost was the first quarter of the last fiscal year, which saw a 46.2% surge.
Over the last five quarters, revenue has increased 4.9% on average year over year. The biggest increase came in the most recent quarter, when revenue rose 14.5% from the year earlier quarter.
Competitors to Watch: Convio, Inc. (NASDAQ:CNVO), Microsoft Corporation (NASDAQ:MSFT), Oracle Corporation (NASDAQ:ORCL), Citrix Systems, Inc. (NASDAQ:CTXS), salesforce.com, inc. (NYSE:CRM), Blackboard Inc. (NASDAQ:BBBB), OpenTable Inc (NASDAQ:OPEN), Cover-All Tech. Inc. (COVR), Peerless Systems Corp. (NASDAQ:PRLS), and JDA Software Group, Inc. (NASDAQ:JDAS)
Stock Performance: Shares of BLKB are unchanged from the previous close.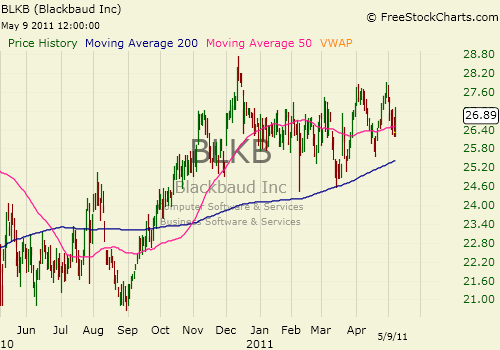 Don't Miss Wall St. Cheat Sheet's newest Feature Trades of the Month!